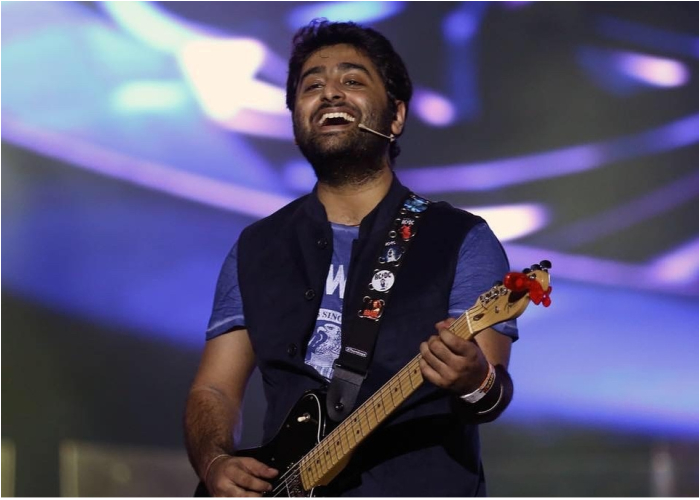 Back in 2013, playback singer Arijit Singh made headlines for his soulful renditions in movie Aashiqui 2. Ever since then, he started being hailed as the 'Melody King' of Bollywood. Once again in 2016, he grabbed limelight, but this time not for his new music release. He wrote a Facebook post apologising to Bollywood superstar Salman Khan. And yet again in 2018, Arijit Singh is trending, but for all the wrong reasons.
A video of Arijit Singh is doing rounds on social media. The video is shot at a music concert where the singer was giving his performance. But there is something weird in his performance if you notice it carefully. He's singing a song from movie Rockstar, which was originally voiced by Mohit Chauhan. Arijit Singh seems a bit out of track while singing the song. But watch the video till the end to know what made the video a viral stuff on internet.
choked pic.twitter.com/9dxaGn8dj0

— Anurag Verma (@kitAnurag) January 17, 2018
Full Video here: 
While Arijit Singh's fingers were busy with the strings of his guitar, the mike kept drifting away from his mouth. This pissed the singer off to great extent. Ultimately, he lost his cool and shouted in the middle of his performance, saying, "Can somebody f***** fix this mike!"
People rushed to the stage to the fix the mike but his sudden outrage left his fans baffled. They were wondering if the mike was the reason why Arijit Singh sounded so off-track. The otherwise calm singer using cuss words in a concert caught the attention of Twitterati in no time. Few users even trolled the singer with memes.
— Anurag Verma (@kitAnurag) January 17, 2018
Gaana jamta nai Mohit Chauhan ka toh kyu gaaneka?

— Nameless Ghoul (@AadharChod) January 17, 2018
Tried to be Mohit Chauhan but he did not know how he was sounding 😂😂

— Nafis Iqbal (@NafisIqbal16) January 17, 2018
January 17, 2018
In 2016, Arijit Singh came into limelight for locking horns with Salman Khan. He wrote a public apology to the actor, pleading a song in his movie Sultan. He requested the superstar to retain his version of Jag Ghoomeya in the song. The apology was said to have a connection with an incident during Star Guild Awards 2014.