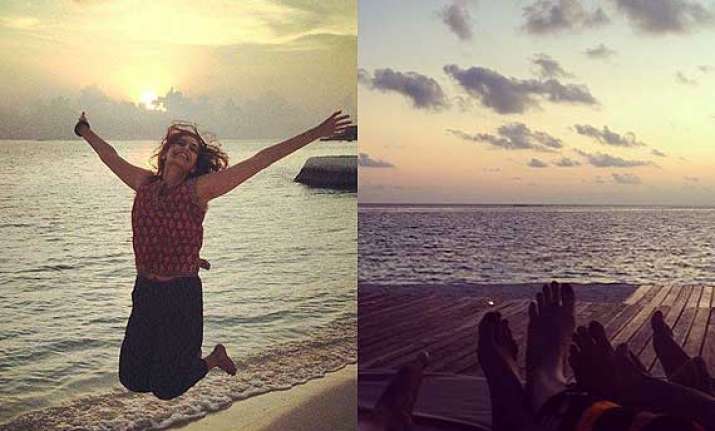 While celebrities were enjoying the splendid festivity at IIFA Tampa Bay, it looks like Bollywood diva Sonam Kapoor planned something different for her.
She along with her sister Rhea Kapoor and friend went for a holiday in Maldives.  Well, we can understand she needed a break from her busy schedule and end up relaxing in Maldives.  
Svelte beauty Sonam is rumoured to be dating a guy named Sahir, apparently introduced to her by Rhea. We are not sure if Sahir too was accompanying her in Maldives. 
Sister Rhea Kapoor posted pictures on her instagram page, showing the exotic beauty of Maldives.  Unlike other Bollywood celebrities, Sonam cast her vote for 2014 Lok Sabha elections before leaving for Maldives.
In-spite of being part of two biggest hits of 2013, 'Raanjhanna' and 'Bhaag Milkha Bhaag', Sonam gave a miss to 15th IIFA Awards. 
Sonam who failed to impress audience with her latest release 'Bewkoofiyaan', is all set to grab attention with her next release 'Khoobsurat'. 'Khoobshurat' is apparently the remake of Bollywood actress Rekha's film, with the same name.
The film will hit the theaters on September 19 this year.
The lovely water chalet amidst the beautiful Maldives blue beach. What more would made Sonam need amidst her busy schedule.

Maldives is famous for its coral atolls. This pictures says it all. The beach gave the reason to Sonam Kapoor to have fun with her sister Rhea Kapoor.