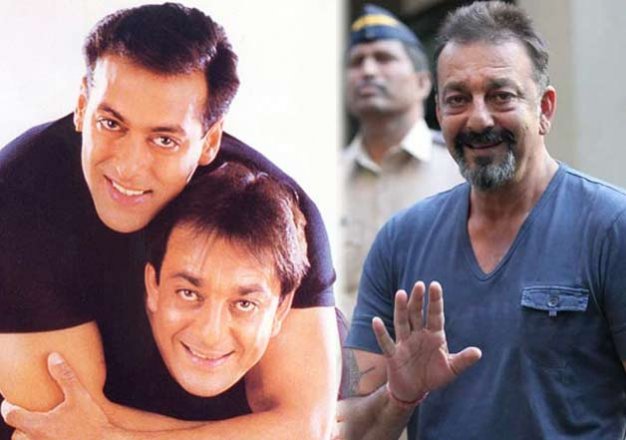 New Delhi: Bollywood's Munna Bhai Sanjay Dutt today walked out of Pune's Yerwada jail after serving 42 months of sentence after he was convicted under the Arms act.
The 56-year-old actor reached Mumbai in a Chartered plane to avoid media. He seeked blessings of Lord Ganesha at the Siddhivinayak Temple and then visited his mother's grave at Marine Lines, apparently to start the out-of-jail life on a good note.
Sanju Babu's homecoming has been cheered by his fans and friends in the film industry. From Mahesh Bhatt to Rajkumar Hirani, everyone closed to him is coming out to hail him and celebrate the occasion.
Interestingly, his buddy Salman Khan has made a special plan to pamper his big brother post his release. Interestingly, Sanjay Dutt referred to Salman Khan as his younger brother at the press conference held today after his release.
As per media reports, 'Dabangg Khan' has made arrangements at his Panvel farmhouse for the Dutt family so that they can avoid the media and relax for as long as they need.
Besides, Salman has also kept time aside to spend some days with Sanjay before he has to leave for Sultan's next schedule.
Sanjay will surely be delighted to see such an elaborate plan from his 'Chal Mere Bhai' co-star.
Salman Khan is believed to be quite attached to Dutt and the two actors share a very special bond.
In fact, Salman, while talking about Sanjay Dutt's sentence, had once said, "When he comes out after finishing his sentence, then he will be free…clean man. That is what we want and that is when we will party."
Here comes the day! Kudos.