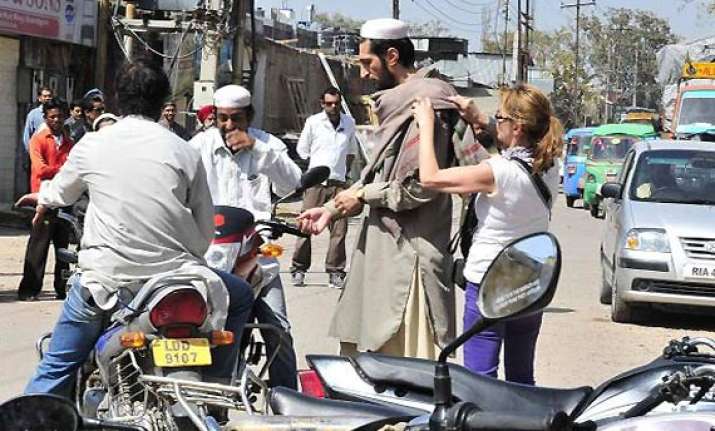 Chandigarh, Mar 3: After Vishwa Hindu Parishad (VHP), a Muslim outfit on Saturday protested the shooting of Kathryn Bigelow's film on Osama bin Laden here on the killing of the al Qaeda leader in Abbottabad (Pakistan) alleging it will disturb the peaceful atmosphere between the communities in a secular country.

"We express our great concern over the shooting of Zero Dark Thirty or ZD 30. This picture will create more differences between Muslim and other communities. It will provoke other communities and law and order will be badly affected and the peaceful atmosphere of the region disturbed," Jamiat-e-Ulema Hind's North India General Secretary Shakeel Ahmed Kasmi said in a memorandum submitted to the Chandigarh's Deputy Commissioner.

Later talking to PTI, Mr. Kasmi said "We are Muslims living in a secular country where such type of activities (film shooting) should not have been allowed by the administration in the first place. We demand that the shooting of this film should be stopped forthwith."

He alleged an attempt was being made through this film to portray the Muslim community in bad light.

"If they have to shoot this film, they should go to Pakistan and not shoot it in India as here we apprehend the peaceful atmosphere will be disturbed," he said.

Earlier on Saturday, a group of traders in Sector 26's grain market, where the film's shooting was going on, also lodged their protest against the movie.

"It is badly affecting our business. The entire area has been sealed and customers cannot reach our shops," a trader based in the grain market said.

On Friday, the film crew was forced to cancel the shoot and move the cameras away after VHP activists protested at Manimajra town on the outskirts of the city, for flying Pakistan's flags.