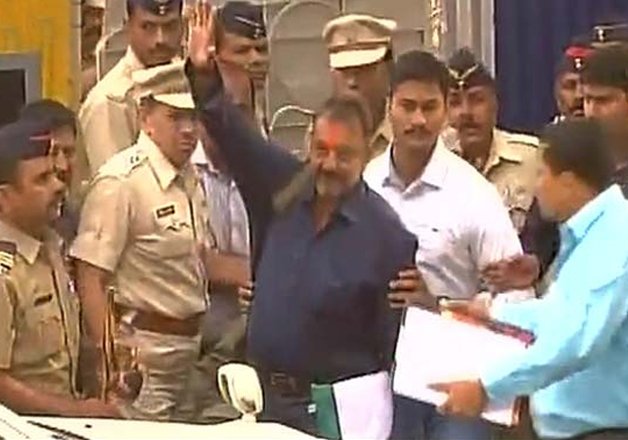 Pune: Veteran actor Sanjay Dutt walked out of Pune's Yerwada Jail today amid heavy security and huge media turnout.
While coming out of jail the 56 year old actor saluted the national flag and calmly waved hand to the crowd.
Dutt's wife Manyata and director Raj Kumar Hirani received the actor outside jail.
Speaking to reporters, Dutt said "It is the support of fans that have led to my release.There is no easy way to Freedom my friend ."
Rajkumar Hirani also captured Sanjay Dutt's exit from prison in camera.The shot will be a part of the Sanjay Dutt biopic that the filmmaker is working on.
The actor was released after he served 42 months, as a part of his five-year sentence after being convicted in the 1993 Mumbai serial bomb blasts case.
On reaching Mumbai, he visited Siddhivinayak Temple and post that visited Marine Lines to pay respects to deceased mother Nargis.
After his arrest in 1996, Dutt spent 18 months in jail during his trial before getting bail.
Dutt will have a busy day today as he is likely to use a chartered plane to travel to Mumbai owing to security reasons and to avoid a huge media turnout.
As a semi-skilled worker, the 56 year old actor earned a salary of Rs 38,000 over a five-year prison term but, having spent most of it on daily use items, he would be taking home a much smaller amount when he is released.
So, Dutt will be paid the balance amount of Rs 450 on the day he is released, said a senior prison officer.
Sources said his pay was calculated after excluding the days of leave on parole and furlough granted to him on several occasions since 2013.
His sentence was also shortened by 105 days on account of his good behaviour.
In last two years, the actor has already been out of the jail for around five months.
Actor's frequent parole and furlough applications and their subsequent granting has been the butt of controversy and generated considerable media storm.
The Vaastav actor has come out of the jail at least half a dozen times after availing parole and furlough – and allegations that he was being given preferential treatment because of being a celebrity and belonging to a political family.
In last two years, the actor has been out of the jail for around five months.
In October 2013 Dutt was granted a furlough of 14 days, which was extended to another 14 days to treat his leg pain.
In December 2013 was granted a parole for 28 days, extended to another 28 as his wife was diagnosed with Tuberculosis.
Then in January 2014, he was granted parole for 30 days, which was extended for 60 day.
He was controversially granted a 14-day furlough in December 2014 by the State prison authorities to enjoy the New Year with his family in Mumbai which was not extended after massive criticism in the media.
Dutt received another 30-day furlough in August 2015 on account of his daughter's nose surgery.
With his parole grant, the 56-year-old actor's frequent leaves and furloughs exceed four months of jail sentence, From May 2013 to May 2014, Dutt spent over 118 days on parole or furlough.
An inmate can get a minimum respite of 114 days if they have behaved well during their imprisonment term. Citing sources, the report claims that the jail authorities are checking the details of this clause.
In March 2013, the Supreme Court upheld Dutt's five-year sentence, 18 months of which he already spent in jail during the trial.He was convicted under Arms Act for Illegal possession of an AK-56 before the 1993 Mumbai serial blasts and was transferred to the Yerawada Central Jail in Pune for serving the remaining prison term of 42 months.
Dutt's third wife Manyata and their twin kids – Shahraan and Iqra, sister Priya Dutt and brother-in-law Owen Roncon besides a host of friends are expected to be present outside the high-security prison, when he walks out.