Follow us on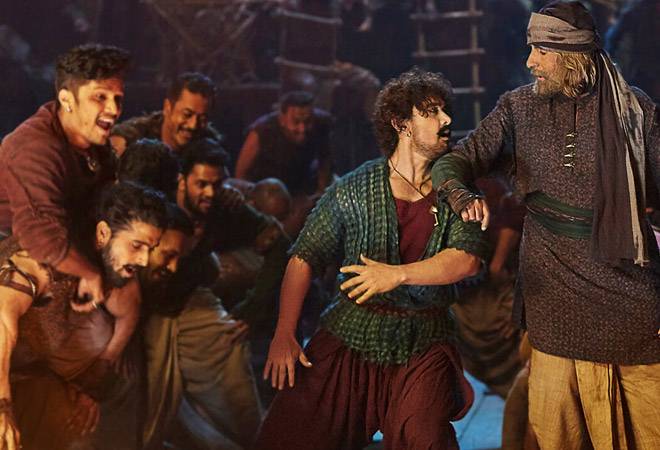 Bollywood latest release, Thugs of Hindostan has hit the cinemas today in Hindi, Tamil and Telugu. The Diwali 2018 release is a period film starring Aamir Khan, Amitabh Bachchan, Katrina Kaif and Fatima Sana Shaikh in lead roles. The film, which is the biggest Bollywood release of this year in terms of number of screens, is expected to bring in up to Rs 50 crore on its first day at the box office. Before the box office numbers come up, have a look at the live updates of Thugs of Hindostan Movie Review.
Everyone is excited about Thugs of Hindostan as the film brings together the two great titans of Indian cinema for the first time.
Also Read: Thugs of Hindostan: 5 reasons why this Aamir Khan, Amitabh Bachchan film didn't work for me
Here are the Highlights for Thugs of Hindostan Movie Review
Amitabh Bachchan as Khudabaksh outshines 
Amitabh Bachchan plays Khudabaksh, a commander of the Thugs, in the action extravaganza, directed by Vijay Krishna Acharya. Big B's role  though short-lived stays with us throughout the film. His character as Khudabaksh is a sight to behold and you can't miss out the "contrasting personalities" of the megastar's character, which reflects in his costume.
Aamir Khan's Firangi is relatable
Aamir Khan plays the amoral easily-bribed junior thug Firangi Not-Inspired-by-Jack-Sparrow Mallah sent to infiltrate them. The actor as firangi talks about some real things about survival, greed and loyalty. Firangi is treacherous but still likeable and relatable and his redemption makes for an appealing narrative in Thugs of Hindostan.
Fatima Sana Shaikh as Zafira is a sight to behold
Fatima Sana Shaikh plays the role of Zafira in Thugs of Hindostan and she aces the look of a warrior thug. The Dangal girl triggers hoots as she comes on the big screens. Zafira is fiery and stunning. She is an extremely talented fighter and specialises in combat by bow and arrow. Zafira has perfect accuracy and she doesn't miss a target, ever. Fatima Sana Shaikh as Zafira brings vigour and freshness to Thugs of Hindostan.
Katrina Kaif fails to impress
Katrina appears in a glamorous avatar alongside her co-stars Aamir Khan, Amitabh Bachchan and Fatima Sana Shaikh. in the film. Besides the glitzy factor, the Tiger Zinda Hai actress has nothing to offer. Her character Suraiyya feels like an extended cameo as the audience gets to see her only in two songs. Her accent also misses the bulls eye. Sensuous Suraiya shakes her hips and seems to be used as a human shield by Firangi.
The East India company is portrayed as naive bunch of white men ready to trade anything with.gold, taking us far away from reality. Background score is enticing, but not The vfx and locales compensate for the mundane script. Too many loopholes in screenplay and continuity as well as logic. Too many plot twists don't even work in the favour of the film that's toppling down.