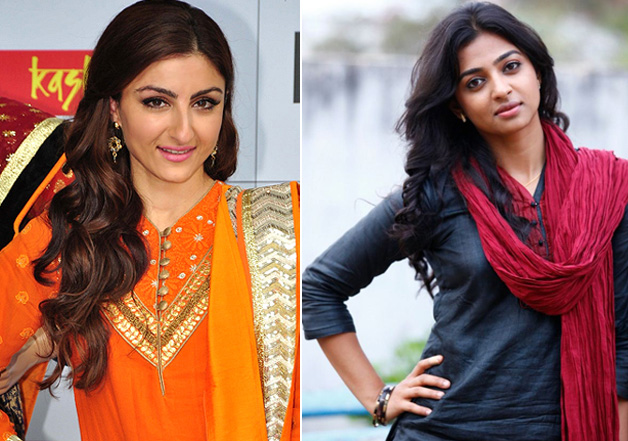 Actresses Soha Ali Khan and Radhika Apte have united for a campaign that focuses on removing negative connotations from the phrase 'Like A Girl'.
"You run like a girl", "you throw like a girl", "you fight like a girl", "you play like a girl" are common usage of the phrase. And the brand has set out on a mission to add positive angle to it.
The campaign has been initiated by Whisper India, a sanitary napkin brand. On Wednesday, the brand came out with a video titled "#LikeAGirl" - with an aim to bring India's attention to the impact such phrases can have on a girl's confidence, read a statement.
Radhika feels the wrong usage of the phrase adds "self-doubt" in girls.
Check out how 'workaholic' Radhika Apte is celebrating her 31st birthday
She said: "Young girls go through many changes on attaining puberty. Not just physical, but even societal changes. In fact, every girl at some point in time has been told that there is something not quite right with the way she does things. A common phrase that only adds to this self doubt is 'Like A Girl'."
For Radhika, doing things "Like A Girl" should only mean doing it with strength and character.
In the same vein, Gurbani Judge, popularly known as Bani, says the initiative is inspiring, and hopes that it helps society see things in new perspective.
Gurbani said: "I've experienced this first hand, where I've been told - on countless occasions that 'Girls shouldn't lift weights, lifting is for guys' or that 'Riding a bike is not for girls', 'baggy clothes and short hair are so Tom boyish' but guess what? I have continued to do the things that I love #LikeAGirl, and I am extremely proud of that."
Soha said: "It's amazing that recent happenings such as the very heartening conversations around Shah Rukh Khan's beautiful poem 'Fight Like a Girl' and the outstanding display of girl power by the Indian contingent at the Rio Olympics, have given a positive spin to the phrase 'Like A Girl'."
The daughter of veteran star Sharmila Tagore feels there is a still a long way to go.
The 'Like A Girl' movement was launched by Always - the global brand name for Whisper, outside India, in the US and select global markets in 2014.