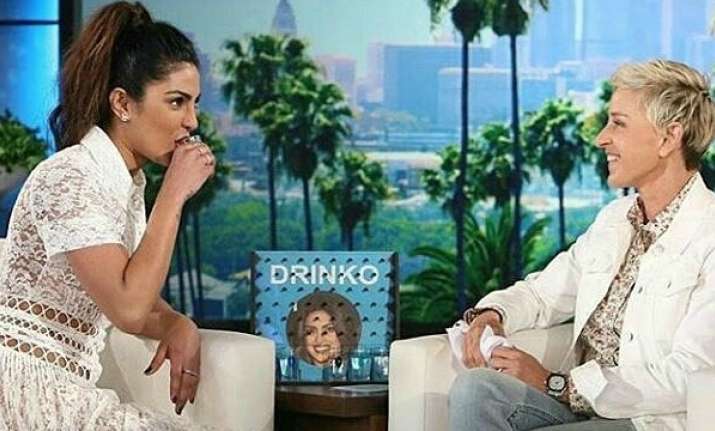 Actress Priyanka Chopra is on her way to global denomination, one chat show at a time. After appearing on the 'The Tonight Show Starring Jimmy Fallon', she made an appearance on 'The Ellen DeGeneres Show'. And the episode had every bit of Priyanka-ness in it.
One would have expected Desi Girl to talk about her Hollywood projects 'Quantico' and 'Baywatch' on the chat show, which to be fair she did, but it was her tequila shot that made the episode singular.
On her arrival, Priyanka was offered a drink by the star host to break the ice. Being a sport she is Priyanka gulped it down. And then, putting up an elegant pose saying she prefers red wine. When Ellen quizzed her more about her choice, Priyanka said it was because the show airs twice in India.
About her relation with tequila, Priyanka said that after she was offered the drink on red carpets in Hollywood, she started thinking it is an American thing.
When DeGeneres said "Americans drink a lot", Priyanka commented: "Oh, so, do Indians. Yeah, Indians drink a lot."
Here is the video of that shows Ellen and Priyanka gelling like they are two lost friends:
.@PriyankaChopra has been Miss India and Miss World, and today she's on my show for the first time. I should've given her a sash. pic.twitter.com/dbEybDIs8V

— Ellen DeGeneres (@TheEllenShow) October 25, 2016
Speaking about her TV show 'Quantico', Priyanka said being a FBI agent gave her a sense of power. When Ellen asked if she knew about FBI, CIA from a long time, Priyanka said she didn't. She added that whatever she learnt about these agencies form shows like 'Homeland'.
Confessing that she did not know how to announce herself, Priyanka said when she said 'FBI, FBI' on breaking a door, she felt powerful.
Priyanka will be soon making her Hollywood debut with 'Baywatch' where she plays the role of antagonist Victoria Leeds.