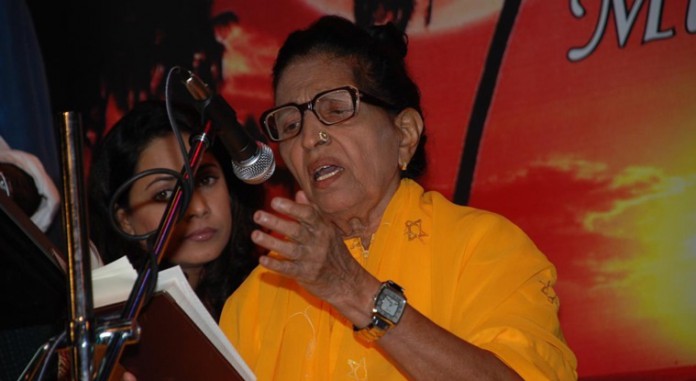 New Delhi: The singing queen of golden era ghazal maestro Mubarak Begum Shaikh, passed away after prolonged illness on Monday night. The legendary Bollywood singer was a popular voice in Hindi cinema and her death at the age of 80 was mourned by many including melody queen Lata Mangeshkar and Rajasthan Chief Minister Vasundhara Raje.
"She breathed her last around 10 p.m. on Monday night at her Jogeshwari home. She had been ailing and hospitalised frequently since over a year with various health problems," her daughter-in-law Zarina Shaikh said on Tuesday.
Known simply as Mubarak Begum, the Rajasthan-born singer was a widow and left behind a trail of sadness among generations of her fans when she breathed her last at 80.
"Saddened by the news of passing away of legendary playback singer Mubarak Begum ji. May her soul rest in peace -- condolences to the family," Vasundhara Raje tweeted.
Ashok Gehlot, former Chief Minister of Rajasthan, shared: "Demise of Rajasthan's Mubarak Begum, the legendary playback singer, is a great loss. Her contribution will be remembered forever. May her soul RIP."
Union Women and Child Development Minister Maneka Gandhi also condoled Mubarak Begum's death, while actress Celina Jaitley said: "A legend passes away leaving her beautiful songs as a legacy RIP Mubarak Begum."
Mubarak Begum is survived by her son Hussain, daughter-in-law Zarina and granddaughter Sana with whom she was living for many years.
Born in Sujangarh (Churu) in Rajasthan, with proficiency in both Hindi and Urdu, Mubarak Begum launched her career with singing programmes and light musical recitals of All India Radio (AIR).
She moved to Mumbai 70 years ago and sang her first playback song in 1949 for the film "Aaiye" for which the music was composed by the late music director Nashad.
That was the launch of a notable singing career spanning over 110 films over four decades till the early 1980s. Besides playback singing, she used to give regular stage performance and musical concerts.
Among her most memorable numbers were "Kabhi tanhaiyon me, hamari yaad ayegi" (Mahari Yaad Aayegi - 1961); "Mujhko apne gala laga lo, ai mere hamrahi" (Hamrahi - 1963); "Neend udd jaye teri, chainse sone wale" (Juaari - 1968); "Wo na aayegi palat ke" (Devdas - 1955); "Wada humse kiya, dil kisiko diya" (Saraswatichandra - 1968).
Over the years, Mubarak Begum was beset with financial difficulties and her family had to appeal for monetary help to take care of her medical bills.
Several times, her frustration and rage would seep out before the media and she accused certain singers of stifling her voice and sabotaging her career -- echoing what another legend, Shamshad Begum, had voiced on several occasions.
A few people, including Bharat Ratna Lata Mangeshkar and Bollywood superstar Salman Khan helped her out in times of dire need, while recently Education Minister Vinod Tawde sanctioned her hospitalisation expenses.
Mangeshkar mourned her death and tweeted: "Bahut dukh ki baat hai ki hamare samay ki gaayika Mubarak Begum ji hamare bich nahi rahi. Main unko shraddhanjali arpan karti hun. (It's very sad news that Mubarak Begumji, a singer from our era, is no more. I pay my homage to her).
They had sung a duet together in 1955 film "Baradari".
With IANS inputs