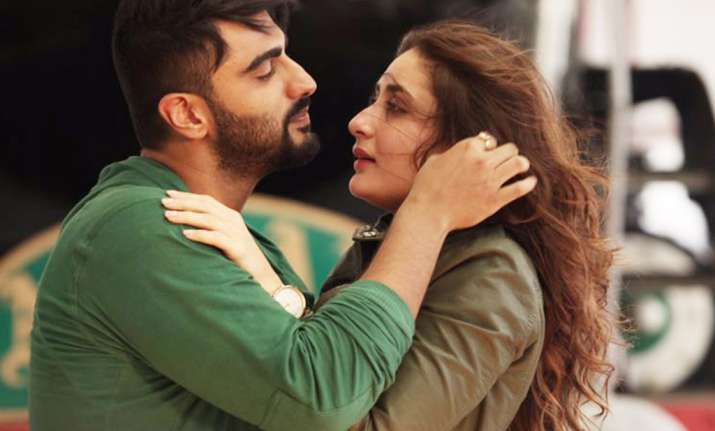 New Delhi: Bollywood actress Kareena Kapoor has been making to the headlines these days because of her sizzling chemistry with co-star Arjun Kapoor in their forthcoming movie 'Ki and Ka'.
The movie which revolves around a career oriented woman and her house-husband is grabbing a lot of attention ever since the trailer has been out.
But what else is creating a stir in the B-town is Kareena's steamy scenes with Arjun Kapoor.
Apparently, ever since Bebo has married Saif Ali Khan in October 2012, the couple had agreed on a 'no kissing policy'. As per this policy, Kareena and Saif won't indulge in any steamy scenes or will kiss anyone on-screen except each other.
However, Kareena recently ditched Saif and broke her so called 'no kissing policy' and went on to lock lips with Arjun Kapoor in 'Ki and Ka'.
While the tongues started wagging about Kareena-Arjun's hot chemistry, Bebo has finally revealed the reason why she ditched Saif 'no kissing policy' for Ajun.
During a promotional event of 'Ki and Ka', when Kareena was quizzed about if Arjun's character will change the mentality of Indian men towards household chores, she said, "Let me say that I am quite sure that after this movie everyone will want a cook or maid, somebody to pay their bills. To do everything just the way Arjun Kapoor does. Not because he is very good at his job but because he is a very sexy looking hunk yaar. No wonder you get so many kisses from me in this movie."
Well, Kareena and Arjun are undoubtedly making one hot pair. Let's see how successful their 'Ki and Ka' turns out to be on the box-office.
Directed by R. Balki, the movie is slated to release on April 1, 2016.