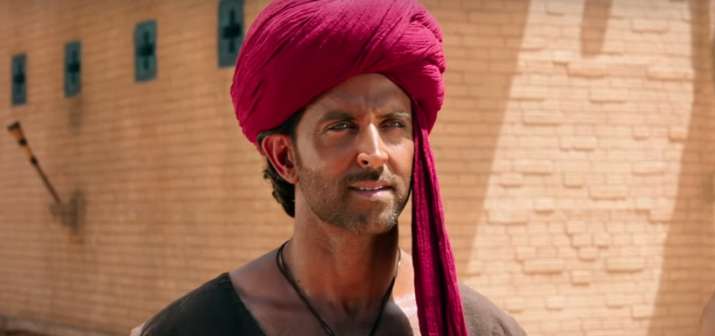 Actor Hrithik Roshan's upcoming movie 'Mohenjo Daro' is one of the highly anticipated movies of this year. Set against the backdrop of Indus Valley Civilisation, it is one of the most ambitious projects of Ashutosh Gowariker. The movie features Pooja Hegde as the female lead.
Owing to its historical relations, the movie is highly awaited. Though after the release of the trailer, it drew ire for not being authentic enough, but the makers said that critics shouldn't jump the gun so early. Gowariker said during one of his interviews that he doesn't want his viewers to feel alienated so he stuck to normal day to day dialect for the movie.
With so much stories about it, one thing is certain that 'Mohenjo Daro' has upped the excitement of viewers. For those who are having it difficult to wait till August 12 to unravel the secrets of one of the oldest civilisations of mankind, we have some good news.
Apparently, the star of the movie Hrithik Roshan has been revealing few secrets about the movie through his tweets. Hrithik's timeline is filled with tweets about 'Mohenjo Daro', whether it is what kind of person his character Sarman is or about his lady love Chaani. Not only this, Hrithik has revealed about other characters as well and also why Indus valley civilisation is a story worth telling.
Now, his tweets are definitely a part of the promotional strategy and if it works it will really help the movie. Only time will tell if viewers are intrigued enough by the characters or not.
Check out his tweets here:
In his attempt to win Chaani's love, he uncovers secrets nobody was supposed to know!#Sarman #MohenjoDaro @iHrithik pic.twitter.com/rFINFjTAi8

— AGPPL (@agppl) July 11, 2016
Sarmans ultimate strength was Chaani's love. Here's the new poster of #MohenjoDaro @hegdepooja pic.twitter.com/XVwDGxaRfZ

— Hrithik Roshan (@iHrithik) July 15, 2016
They assumed he was naive cause he was simple n honest. Until he redefined love n honour in his fight 4 #MohenjoDaro pic.twitter.com/sUdFuLex1K

— Hrithik Roshan (@iHrithik) July 23, 2016
Chaani realized she doesn't need 2 conform 2 diff rules 4 women. Here is whr she breaks free!https://t.co/RcegpIk3I4 pic.twitter.com/TlXA8uKeVi

— Hrithik Roshan (@iHrithik) July 25, 2016
He believed in peace but sometimes d only way 2 peace is thru a brave fight !! #MohenjoDaro https://t.co/3jAOF9DJzN

— Hrithik Roshan (@iHrithik) July 27, 2016
Even in his anger there was compassion. Hurt n betrayed by d ones he loved most, he stood strong. #SarmanInspires pic.twitter.com/x9dVOW91Lv

— Hrithik Roshan (@iHrithik) July 29, 2016
A happy go lucky girl, #Junu is a childhood friend of #Chaani who keeps all her secrets. #MohenjoDaro pic.twitter.com/m5ePxVFb1a

— AGPPL (@agppl) July 29, 2016
#Lothar becomes the most important man for #Sarman in his fight against the tyranny. #MohenjoDaro pic.twitter.com/SQVxx1rEks

— AGPPL (@agppl) July 29, 2016
No one has documented proof about #MohenjoDaro barring a few excavated things. The story is my imagination- Ashutosh pic.twitter.com/JlEnlple7Z

— HrithikRules.com (@HrithikRules) July 29, 2016
#Hojo is a childhood friend of #Sarman. He has always been with him through thick and thin. #MohenjoDaro pic.twitter.com/N78AlVjTX1

— AGPPL (@agppl) July 30, 2016