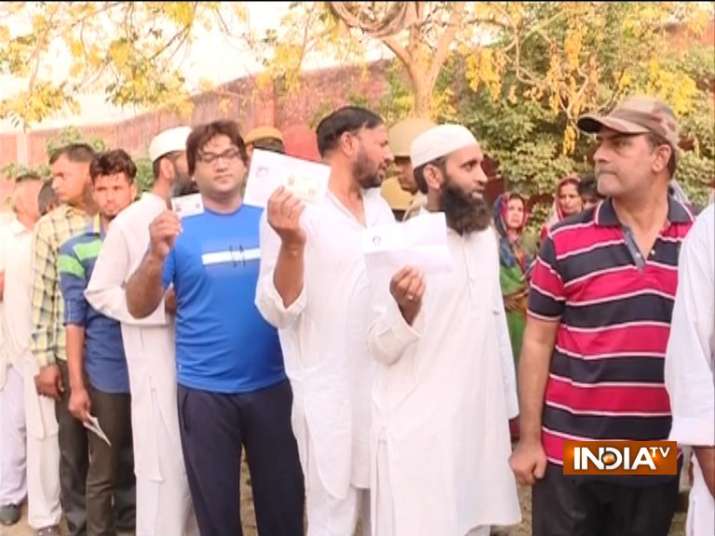 Lok Sabha Bypolls counting LIVE on May 31: The Election Commission on Monday was flooded with complaints of faulty EVM machines from across the states holding bypolls, even as the commission said that the problem was in VVPAT machines. The EC has ordered all election officials to allow people to vote after the designated time of 6 pm to compensate for time lost in glitches and to maximise the voter turnout. 
Polling to four Lok Sabha seats, including the politically-crucial Kairana in Uttar Pradesh, concluded today. Faulty EVMs and VVPAT machines were reported in Uttar Pradesh's Kairana and Maharashtra's Palghar and Bhandara-Gondiya constituencies. Voting was stopped in the affected areas and work was on to replace the machines as hundreds of voters patiently waited in the blistering heat.  
The reports of EVM glitches created uproar in several assemblies as politicians from almost all parties reached out to Election Commission seeking an enquiry into the matter. 
The commission, however, dismissed the claim that elections were affected by faulty EVMs as, it claimed, that either the voting machines were fixed soon or they were replaced with extra available EVMs. The commission blamed persisting heat wave for the machine problems.
The counting of votes will be held on May 31.
As it Happened:
08:50 pm: 54.17 per cent voter turnout recorded in UP's Kairana bypoll till 6 pm
08:50 pm: 46% and 42% voter turnout recorded in Maharashtra's Palghar and Bhandara Gondia till 6 pm
08:39 pm: Some VVPAT machines malfunctioned at the time of voting. It was due to scorching heat. We solved the problem by repairing most of them. The machines which could not repaired, were immediately replaced. News of re-polling is wrong: Abhimanya Kale, Bhandara DM
07:30 pm: 31 per cent voter turnout registered in Maharashtra's Bhandara-Gondiya  till 5 pm
06:30 pm: 40.35 per cent voter turnout registered in Maharashtra's Palghar till 5 pm
06:14 pm: There was massive technical snag in the EVMs and total breakdown of systems. My supporters went back without voting as machines were not  working. My party leaders have approached the EC regarding the matter: Mriganka Singh, BJP Candidate from Kairana  Lok Sabha bypolls (ANI)
05:52 pm: 48% voter turnout in UP's Kairana till 5pm
05:51 pm: 40.37 per cent voter turnout recorded till 5 pm in Palghar by-poll Maharashtra
05:46 pm: 
BJP delegation met EC officials in Delhi over reports of malfunctioning in EVMs during by-polls today.BJP's Arun Singh says,'we told them that we received info that EVMs worked either late or with some issues or didn't work at all in 197 booths,demanded repolling at few stations' pic.twitter.com/gpq1CaHSZ7

— ANI (@ANI) May 28, 2018
05:45 pm: All the electors who are in the queue in the polling booth, at the time of close of voting, should be facilitated to cast their votes. This is given due publicity by the concerned district election machinery in the polling areas: Election Commission
04:40 pm: Voting percentages in Maharashtra's Bhandara-Gondiya and Palghar have been registered at 28.85 per cent and 30.12 per cent respectively till 3 pm
04:21 pm: The issues were being faced in VVPAT machines and not EVMs. The problem has been solved now. Some machines have been replaced at some booths. The voting is now running smoothly: Vikram Singh, District Magistrate of Shamli on Kairana Bypoll
04:20 pm: We demanded from EC, re-polling in places where more than one and a half hours were wasted and extra time after 6 pm for voters in places where less time was wasted so that they can vote: RG Yadav, SP after the multi-party delegation met Election Commission over by-polls in Kairana and Noorpur
03:13 pm: Several EVM glitches reported in Maharashtra's Bhandara-Gondiya. Complaints have been registered with the election officer. EVM machine in Bhandara's Lakhni taluka booth no. 140/143 suddenly stops working.
02:52 pm: Kairana Lok Sabha bypoll: 30.61% polling recorded till 1 pm
01:59 pm: 19.25% voter turnout recorded till 1 pm in Palghar by-poll 
01:58 pm: 
EVMs malfunctioning in Bhandara-Gondiya poll. In many big European nations, election commissions have rejected the EVMs and gone back to ballot paper system. SP leader Akhilesh Yadav ji just called me up,he also said 300 EVMs not working in Kairana bypoll: Praful Patel,NCP pic.twitter.com/M8mOsOHNIt

— ANI (@ANI) May 28, 2018
01:08 pm: 
Technical problems in EVMs&VVPATs clearly indicate failure of EC.If this is the situation in by-polls, think about coming Lok Sabha Elections. We've said it again & again & other parties have also agreed,that elections should be conducted using ballot papers:Anil Desai, Shiv Sena pic.twitter.com/bpaoLJALw5

— ANI (@ANI) May 28, 2018
12:52 pm: A delegation of BJP reaches ECI with complaints of EVMs developing a snag. They demand repolling in 67 polling booths, mainly in Gangoh and Nakur assembly segments in Kairana
12:51 pm: Bhandara–Gondiya Lok Sabha bypolls: Voting temporarily suspended for now at 35 polling booths due to faulty Electronic Voting Machines (EVM): Abhimanyu Kale, District Magistrate
12:49 pm: #Kairanabypolls: BJP hits back at Opposition over allegations of EVM tampering. Cabinet minister Srikant Sharma says the opposition knows it is going to lose these bypolls. 
12:25 pm: "Upchunav mein jagah jagah se EVM kharab hone ki khabrein aa rahi hain, lekin phir bhi apne matadhikar ke liye zaroor jayen aur apna kartavya nibhayan," Samajwadi Party president Akhilesh Yadav said on Twitter. It loosely translates to "getting reports of problems in EVMs in the by-election, but still voters should go out and vote". 
12:07 pm: Top EC sources to India TV: Faulty EVMs are being replaced or are being repaired by technicians. There is no possibility of any foul play. These machines are double locked, there is no chance of any manipulation.    
12:05 pm: 44% voter turnout recorded in Nagaland till 11 am.
12:00 pm: 
I've been continuously receiving complaints. They didn't expect so many ppl to come out to vote in Ramzan.Initial strategy was to hold elections in Ramzan so that ppl won't vote: Tabassum Hasan, RLD candidate for #Kairana Lok Sabha seat after writing to EC over faulty EVMs&VVPATs pic.twitter.com/0JjnN4LMrC

— ANI UP (@ANINewsUP) May 28, 2018
11:35 am: 
Tabassum Hasan, Rashtriya Lok Dal (RLD) candidate for #Kairana Lok Sabha by-poll, writes to the Election Commission over faulty EVMs & VVPATs in around 175 polling booths across Shamli, #Kairana and #Noorpur pic.twitter.com/thY6WXGZD4

— ANI UP (@ANINewsUP) May 28, 2018
10:52 am: According to latest updates by India TV sources, 15 per cent voter turnout has been recorded in Kairana. 
10:43 am: There are reports that in Noorpur 140 EVMs are faulty, which is because they've been tampered, there are similar reports from Kairana. They (BJP) want to avenge defeat in Phulpur & Gorakhpur, which is why they want to defeat us at any cost : Rajendra Chaudhary, Samajwadi Party
10:42 am: According to the Election Commission, there are 16.09 lakh voters in Kairana. This includes 8.73 lakh male voters and 7.36 lakh female voters. 
10:37 am: 
Tabassum Hasan, Rashtriya Lok Dal (RLD) candidate for #Kairana Lok Sabha by-poll, casts her vote; says, 'machines are being tampered everywhere, faulty machines haven't been replaced in Muslim&Dalit dominated areas. They (BJP) think they can win polls like this.That won't happen' pic.twitter.com/1jyBDTmtKZ

— ANI UP (@ANINewsUP) May 28, 2018
10:32 am: 16 per cent voting recorded in Maharashtra's Bhandara-Gondiya 
10:31 am: 
#Palghar Lok Sabha by-poll: Instead of index fingers, middle fingers of some voters are being inked by officials to differentiate between them, as Panchayat elections were held in some parts of Palghar yesterday. #Maharashtra pic.twitter.com/hbTK1wvLpL

— ANI (@ANI) May 28, 2018
10:10 am: 10.20% voting recorded till 9 am in Kairana Lok Sabha by-election
10:07 am: EVMs in Muslim-dominated areas have been deliberately put at fault by the BJP, alleges RLD. 
10:02 am: 
Voting under way for #Nagaland Lok Sabha by-poll, visuals from a polling station in #Dimapur. pic.twitter.com/bJMNRzPDYv

— ANI (@ANI) May 28, 2018
09:55 am: Uttarakhand: Polling agents of all political parties demand a new Electronic Voting Machines (EVM ) after mock poll at a polling booth in Sarpani was stalled due to faulty EVM
09:48 am: Maharashtra: 11 faulty EVMs reported across polling booths in Palghar & Bhandara Lok Sabha constituencies
09:41 am: 
Maharashtra: Voting has not started at polling booth number 170 in Arjun-Morgaon area of Gondiya, due to faulty EVM

— ANI (@ANI) May 28, 2018
09:00 am: 
Voting for #Kairana Lok Sabha by-poll underway; Visuals from a polling booth in Shamli pic.twitter.com/llxd62paO0

— ANI UP (@ANINewsUP) May 28, 2018
08:28 am: 
#KairanaByPoll Voting stalled at Public Inter College, Kairana due to faulty VVPAT

— ANI UP (@ANINewsUP) May 28, 2018
08:19 am: In Palghar, the bypoll was necessitated following the death of BJP's Chintaman Wanaga. The BJP's bickering ally Shiv Sena has fielded the late MP's son Srinivas in a bid to garner the sympathy vote. The BJP has put up former Congress minister Rajendra Gavit. The Bahujan Vikas Aghadi (BVA) led by Vasai-Virar strongman Hitendra Thakur is also in the fray with the nomination of its ex-MP Baliram Jadhav. 
07:44 am: 
#PalgharLoksabhabyelection: People outside a polling booth in Palghar pic.twitter.com/sdbOYadeHj

— ANI (@ANI) May 28, 2018
07:20 am: 
Voting for #Kairana Lok Sabha by-poll underway; Visuals from polling booth number 29 in Shamli pic.twitter.com/xxuioIEUV3

— ANI UP (@ANINewsUP) May 28, 2018
07:02 am: 
Maharashtra: Visuals from Booth Number 154-159 in Vasai, voting for #PalgharLokSabhaByElection to begin shortly. pic.twitter.com/MFPiJguYrS

— ANI (@ANI) May 28, 2018
06:45 am: 
Voting for #KairanaByPoll to begin at 7 am. Visuals from Shamli's Booth Number 29, Rashtriya Kisan Inter college. pic.twitter.com/NAGlMdyBh5

— ANI UP (@ANINewsUP) May 28, 2018
06:42 am: All four major parties in Maharashtra -- the Congress, BJP , Shiv Sena and the NCP -- have pulled out all stops for the Lok Sabha bypolls as the outcome is likely to have a bearing on their future course. The Shiv Sena has fielded late BJP MP Chintaman Wanaga's son Shriniwas Wanaga in Palghar, much to the dislike of the BJP which has in-turn nominated Congress deserter Rajendra Gavit. 
06:41 am: The opposition hopes that by consolidating anti-BJP votes in Kairana, they will repeat the success of the Gorakhpur and Phulpur Lok Sabha by-elections, where the ruling party suffered an unexpected defeat. 
The ruling BJP, on the other hand, is making extra efforts to retain the seat to try and send a strong message to voters, party cadres as well as the opposition parties -- that the drubbing in the Gorakhpur and Phulpur bye-elections was an aberration, and that it was still strong in western UP. 
06:30 am: 
#TopStory: By-polls to 10 Assembly constituencies and 4 Lok Sabha seats across 10 states to take place today. Voting for Lok Sabha by-polls to be held in Kairana (UP), Palghar & Bhandara-Gondiya (Maharashtra) and Nagaland Lok Sabha constituency. (file pic) pic.twitter.com/OKo9wxDntr

— ANI (@ANI) May 28, 2018