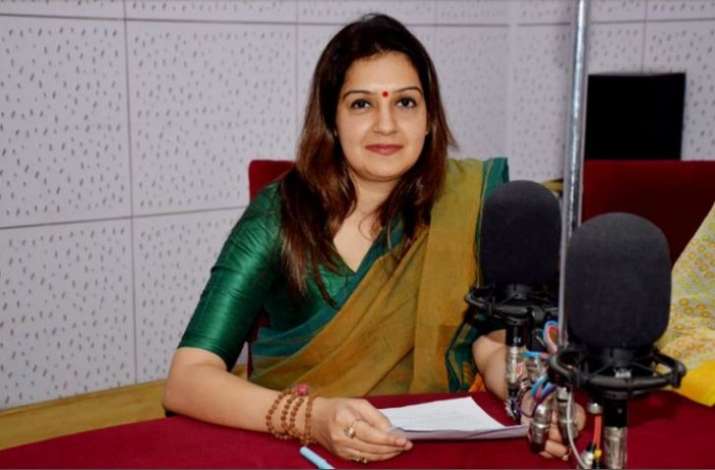 Priyanka Chaturvedi may have left the Congress in an angry state, but her spirits are high even as she joins Shiv Sena, an ally of BJP.
"Gaana main gaati rahungi," said Priyanka Chaturvedi when she was reminded of the parody song she sang while criticising Union Minister Smriti Irani over her educational qualifications.
Priyanka Chaturvedi when asked on her recent song on Smriti Irani's degree, that will she continue it after joining Shiv Sena, a BJP's ally: If you see Shiv Sena also, in past 5 yrs they've never hesitated from speaking if Govt did something wrong. 'Aur gaana main gaate rahungi' pic.twitter.com/7Bx6nZJd39

— ANI (@ANI) April 19, 2019
Controversy broke out when uncertainty over Smriti Irani's educational qualifications became public through election affidavits filed by her in 2014 and 2019.
Congress trained its guns at BJP immediately. Leading the charge was the then Congress Spokesperson Priyanka Chaturvedi who sang a parody song based on Smriti Irani's hit TV series Kyunki Saans Bhi Kabhi Bahu Thi.
Chaturvedi literally sang the lines. Watch the video below.
#WATCH Congress' Priyanka Chaturdevi: A new serial is going to come, 'Kyunki Mantri Bhi Kabhi Graduate Thi'; Its opening line will be 'Qualifications ke bhi roop badalte hain, naye-naye sanche mein dhalte hain, ek degree aati hai, ek degree jaati hai, bante affidavit naye hain. pic.twitter.com/o8My3RX9JR

— ANI (@ANI) April 12, 2019
The news soon hit national headlines. Video of Priyanka Chaturvedi singing the parody song went viral on social media.
Little did everyone know that Chaturvedi will leave the Congress within a week.
In a letter addressed to Congress president Rahul Gandhi, Priyanka Chaturvedi expressed that she was unhappy after certain local Congress leaders in Mathura "misbehaved" with her and reinstated in the party after being briefly suspended.