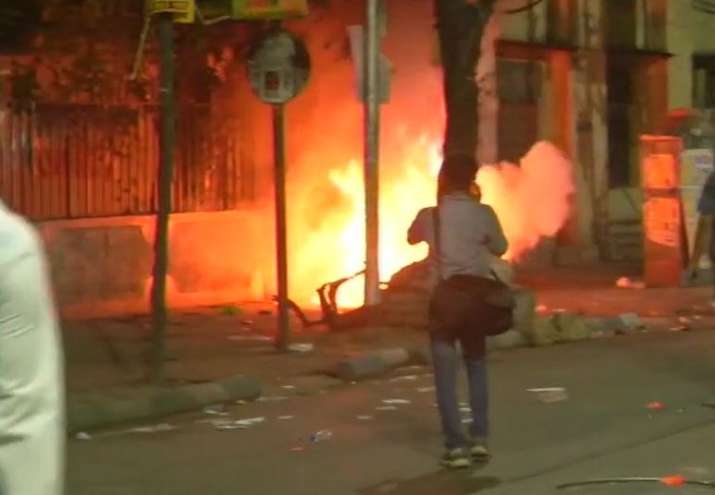 Violence hit BJP president Amit Shah's roadshow in Kolkata on Tuesday. While Shah targetted West Bengal Chief Minister Mamata Banerjee over the violence, Mamata claimed that people were brought from outside West Bengal to carry out violent activities on Tuesday.
News agency ANI reported on Tuesday evening that stones and sticks were hurled at Amit Shah's truck as it came near Calcutta University. BJP claimed that the attack was launched from inside the University and that Trinamool Congress workers were involved in the violence. BJP leaders have accused that Trinamool Congress wanted to disrupt Amit Shah's roadshow. 
Mamata Banerjee has refuted these allegations and has said that violence was not fomented by Trinamool Congress.
Violence in Kolkata drew comments from BJP leaders from outside West Bengal as well. Utter Pradesh Chief Minister Yogi Adityanath demanded that President's Rule be imposed in West Bengal following Tuesday's violence.
#WATCH Clashes broke out in roadshow of BJP President Amit Shah in Kolkata after sticks were hurled at Shah's truck. #WestBengal pic.twitter.com/t8bnf31vGA

— ANI (@ANI) May 14, 2019
A number of people have got injured.
#WATCH: Visuals after clashes broke out at BJP President Amit Shah's roadshow in Kolkata. #WestBengal pic.twitter.com/laSeN2mGzn

— ANI (@ANI) May 14, 2019
Here is how the situation unfolded:
11:00 pm: West Bengal Chief Minister Mamata Banerjee has alleged that BJP brought people from outside West Bengal to create a violent situation in Kolkata.
10:29 pm: BJP will hold a demonstration at Jantar Mantar in New Delhi to protest against violence at Kolkata. The demonstration will be held on Wednesday at 11 am 
10:06 pm: TMC cadres not involved in stone pelting incidents During Amit Shah's roadshow: Mamata Banerjee
                   West Bengal Chief MInister Mamata Banerjee has refuted allegations of TMC workers being involved in violence during Amit Shah's rally this evening. She said that TMC cadres were not involved in incidents of stone pelting that occurred this evening.
10:05 pm: This is  state-sponsored violence, we demand President's rule in WB: Yogi Adityanath
                  Uttar Pradesh CM Yogi Adityanath alleged that violence in Kolkata was state sponsored. He has now demanded a President's rule in West Bengal.
10:02 pm: "Is Amit Shah above God that none can protest against  him?" says West Bengal CM Mamata Banerjee over clashes during his road show.
9:50 pm: BJP delegation arrived at Election Commission office in New Delhi to lodge a complaint about what happened in Kolkata this evening. The delegation includes Nirmala Sitharaman, Mukhtar Abbas Naqvi, GVL Narsimha Rao and others.
9:30 pm: West Bengal CM Mamata Banerjee has reached Vidyasagar College to observe the situation on ground. A statue of Pandit Ishwarchandra Vidyasagar was vandalised during today's violence.
9:10 pm: West Bengal is being run by a 'government of gangsters': Arun Jaitley on Kolkata violence.
8:40 pm: TMC was frustrated because of the large turnout at BJP roadshow, that's why they attacked it: Amit Shah
8:30 pm: The attack at the rally in Kolkata was a conspiracy by Mamata Banerjee, says Amit Shah.
8:10 pm: Union Minister Babul Supriyo has alleged that an attack on Amit Shah's roadshow was launched from inside Calcutta University.
7:51 pm: "I suspect TMC wanted to disrupt the roadshow", BJP leader Kailash Vijayvargiya tells India TV News
7:48 pm: "TMC is scared, hence it is resorting to such acts," BJP leader Shivraj Singh Chauhan
7:46 pm: News emerges that statue of Ishwar Chandra Vidyasagar was vandalised during the violence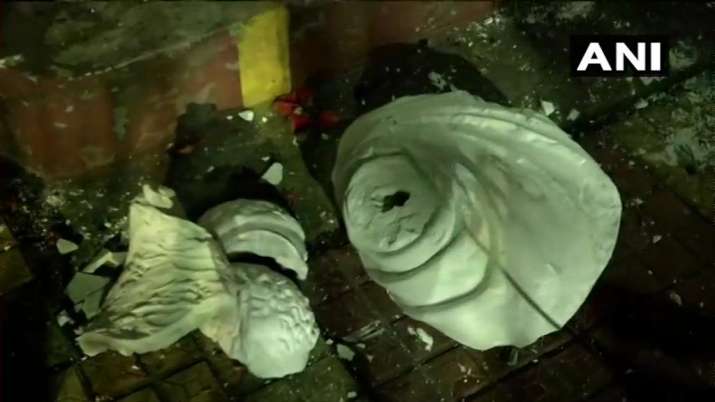 7:45 pm: BJP workers allege assault by Trinamool Congress workers
6:48 pm: First images of violence during Amit Shah's Kolkata roadshow emerge
(This is a developing story. More details are awaited)
Also Read: Amit Shah roadshow in Kolkata draws huge response as Mamata Banerjee fights against BJP surge
WATCH | #ModiOnIndiaTv: Watch India Tv's EXCLUSIVE interview with PM Modi