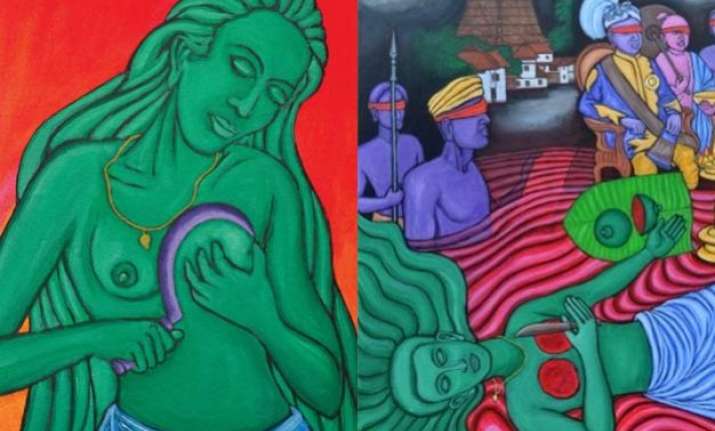 New Delhi: Indians are known to take pride in their diverse history. From kings to wars, from Vedas to opulent monuments, we have them all. Often amidst basking in the glory of our history, we tend to forget some barbaric laws which were imposed on the citizens centuries ago.
As yet another International Women's Day is celebrated, it is the perfect time to remember a forgotten hero who laid down her life in hope for better days for the downtrodden.
Nangeli, a 30-year-old woman, chopped off her breasts to revolt against a horrendous 'breast tax' that was imposed on Travancore Dalit women in the early 19th century. This tax called (Mulakkaram) used to be collected from women if they wished to cover themselves with cloth in public.
Apart from being a grave violation of human rights, it was also degrading to charge a person for covering up their private parts.
"One day, when the official tax collector (or the parvathiyar) repeatedly came to Nangeli's house to ensure she paid up her pending breast tax, she calmly asked him to wait for a while. Nangeli then placed a green plantain leaf on the floor, prayed, lit the holy lamp and then proceeded to chop off both her breasts,'' a Kannur-based artist T Murali told a leading daily.
Following the horrific death of Nangeli in this act of protest, the crown annulled the breast tax in Travancore.
The place where the historic incident took place is called Mulachipa rambu, which in Malayalam means 'the land of woman's breasts'. In order to ease the pronunciation for locals, the place is refereed to as Manorama Kavala (kavala means junction).
Nangeli's hut is still untouched with a patch of greenery surrounding it adjoined by a pond.  
Professor Ajay Sekher, a Kottayam-based researcher who has also blogged about Nangeli, said: "It is unfortunate that people are forgetting this illuminating episode in the long fight for human rights, dignity and equality in Kerala. It is not right to erase this tragic historical incident from our collective consciences, as if it never happened.''