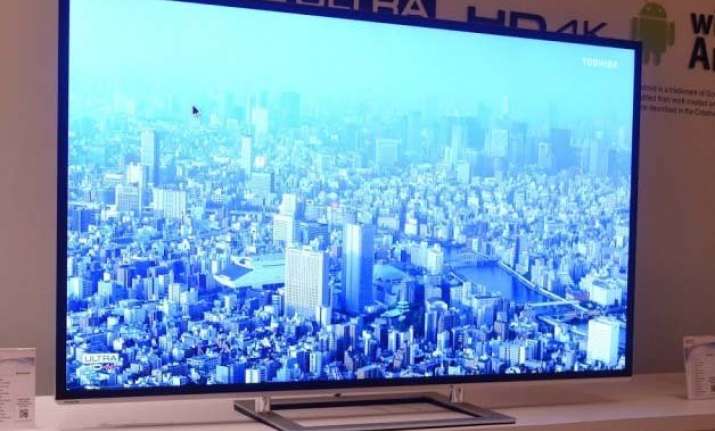 New Delhi: Japanese electronics giant Toshiba has launched a new range of LED TVs, the Ultra HD 4K L9450 series and HD and Full HD L5400 series, that are powered by Android 4.4.2 (though not upgradable to the Android 5.0).
These television sets support for up to eight user accounts, allowing each member of the family to have their own apps such as Facebook without having to log in and out each time.
L9450 UHD 4K series is available in 50, 65 and 84 inches screen size priced between Rs. 1.99 lakh to 10.49 lakh.
While L5400 HD & Full HD series is 32, 40, 47 and 56 inches screen size priced between Rs 38,990 to Rs. 1.29 lakh.
There's also an option to side-load apps or install your own app markets, as the Google Play store loaded on the TV is limited to free apps only. You can also download paid apps that you've already bought on your Google account, the company says.
It comes loaded with Toshiba's Cevo 4K image processing engine, an intelligent scene optimiser that automatically adjusts the display to suit the scene. It also has a feature called active movie and resolution plus (AMR) 3100 that reduces motion blur in a scene for clearer action sequences.
All three models will come with digital video broadcasting support (DVB-T2) for watching free-to-air HD channels.
Other feature of Ultra HD 4K L9450 series and HD and Full HD L5400 series include personalised content, visual details, stunning graphics, built-in WiFi, web browser to access any website.
The new range also allows a viewer to plug-and-play wireless keypad and mouse.
Founded in Tokyo in 1875, Toshiba has a global network of over 590 consolidated companies employing over 200,000 people. It has annual sales of over $63 billion.