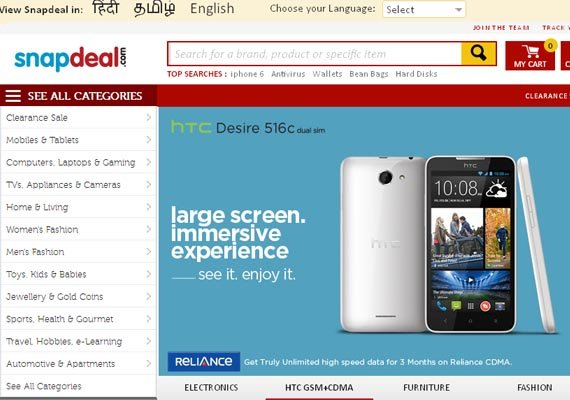 New Delhi: Japanese telecom giant SoftBank has pledged an investment of $10 billion (Rs. 61,000 crore) in India's IT, communications and e-commerce sector, including $627 million (Rs. 3,825 crore) in Indian online retailer Snapdeal.
This is one of the biggest investment commitments from a Japanese firm after Prime Minister Narendra Modi's visit to that country.
The proposed investment was committed by Softbank chairman and CEO Masayoshi Son in a meeting with Telecom Minister Ravi Shankar Prasad. "Mr Son assured the Minister that SoftBank would like to invest approximately $10 billion in India in the coming years. He placed it on record that India is the top most priority for SoftBank," the Telecom Ministry said in a statement.
The visit of Prime Minister Narendra Modi to Japan has created a climate of hope and optimism about greater economic cooperation between the two countries, Mr Son said.
SoftBank sees immense potential in India's e-commerce sector, with Mr Son estimating it to become a $500 billion (Rs. 30.5 lakh crore) business in the next 10 years. SoftBank's investment in Snapdeal comes in the wake of another Indian retailer Flipkart recently attracting record funding of $1 billion (Rs. 6,100 crore) from overseas investors.
SoftBank already has investments in many Indian companies, including mobile advertising firm InMobi and instant messaging service provider Hike. With a market value of $92 billion (Rs. 5.6 lakh crore), SoftBank has operations in broadband, fixed line telecom, e-commerce, finance, media and marketing.