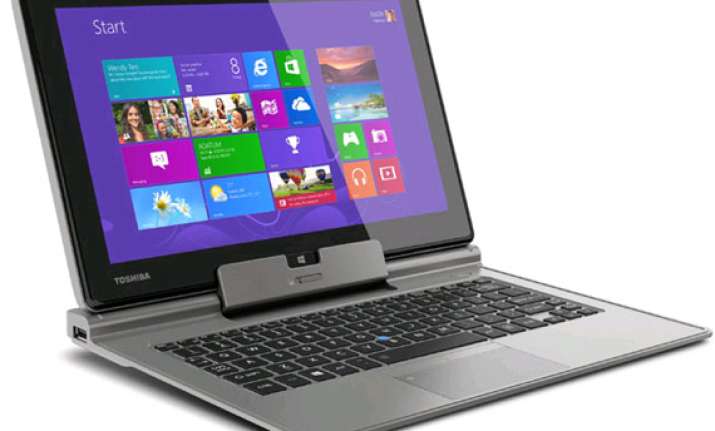 New Delhi: Toshiba has launched the first laptop with a 4K screen in India. The new Toshiba Satellite P50t-B Y3110 laptop belongs to the P-Series and will be able to show off 4K content – meaning 4 times the standard of a Full HD (1080p) screen. The device runs Windows 8.1 and costs Rs 86,000.
The P50t-B Y3110 comes with a 15.6-inch 3840x2160p resolution IPS 4K display, which means it boasts 4 times the standard of a Full HD (1080p) screen. 
"Bringing the latest technology, style and comfort to our customers is a part of Toshiba's DNA and we are continuing to push the envelope. Customers in India are far more aware of global trends and have the appetite to accept and appreciate a refined experience," Sanjay Warke, Country Head, Toshiba India said at the launch. 
Toshiba also launched laptops in the affordable L series with prices as low as Rs 25,785, along with the top of the range Tecra W50 professional workstation priced over Rs 1,60,000. 
Other P50t-B Y3110 specifications include 1TB HDD, 8GB RAM (expandable up to 16GB), touch-enabled, HDD protection sensor, aluminium chassis, Harman/Kardon speakers, backlit keyboard, USB-sleep-and-charge support, as well as fourth-generation 2.5GHz Intel Core i7 processor with Turbo Boost Technology, 2GB AMD dedicated graphics card, 4 USB 3.0 ports, HDMI, Wi-Fi and UHS-II SD card slot, it also comes running Windows 8.1. 
On the other hand, the Satellite S40-B X3110 comes with a 1.6 GHz Intel Core i5 processor yoked with 4GB RAM and 1TB RAM. This notebook is priced at Rs 50,790. 
Toshiba also launched Protege Z10t Ultrabook – a Windows 8.1 ultrabook targetted at business professional. It features a 11.6-inch Full HD display protected by Corning Concore Glass and supports touch input as well as digitizer input. The ultrabook comes with a detachable screen, with a rather clunky clasp in the middle, and the keyboard dock features backlit keys. The device offers four processor options which are all Intel Core models. Buyers can choose up to 4GB of RAM and between Windows 7 Professional and Windows 8.1.