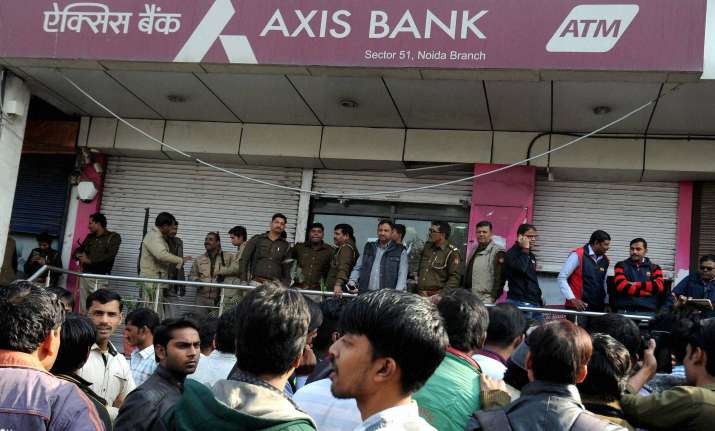 The Income Tax department is probing as many as 63 suspicious accounts with a total transaction of over Rs165 crore in three different branches of Axis Bank in Delhi and Noida.
Around 23 suspicious accounts at Axis Bank's Sector 18 branch have also come under the I-T scanner in the last couple of days.
"The Sector 18 branch of Axis Bank informed us about 23 suspicious accounts. Now we are probing 63 accounts at Sector 51, Sector 18 and New Delhi's Krishna Nagar branches," HT quoted an I-T official as saying.
The report also quoted from its source that post demonetisation, all transactions from these accounts were made to a bullion trader's account in Delhi's Chandni Chowk.
On Thursday, I-T officials conducted a raid at Axis Bank's Sector 51 branch over suspicion of transactions worth crores of rupees from bogus accounts. News agencies have reported that 24 accounts — mostly of low income workers — with deposits aggregating Rs 60 crore were unearthed. 
Last week, the Enforcement Directorate arrested two Axis Bank managers here and seized 3 kg gold bars in connection with its money laundering probe in a racket of illegally converting old notes in connivance with banking authorities.
Under constant scrutiny, the private bank has suspended 24 employees this month and 50 of its accounts are under the scanner due to suspicious transactions.
Meanwhile, Axis Bank officials said they have proactively filed suspicious transaction reports (STRs) of many accounts across NCR to the I-T department that are being probed.
"We have already filed about 139 STRs over a period of time for the cases under discussion, including several STRs in the last one month. Additional information, as required, has also been shared proactively with the investigative agencies to aid their efforts. We continue to file STRs on various situations that may lead to suspicious transactions," said a spokesperson for Axis Bank.