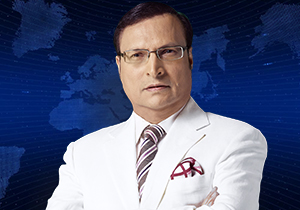 Rajat Sharma
He is best known for his popular show 'Aap Ki Adalat'. A show that has become a forum for personalities to candidly share their experiences in life, their innermost thoughts and their views that people were never aware of. The show has continued to captivate viewers for a record 22 years. He has grilled over 1000 personalities in his inimitable style and trademark smile and Aap Ki Adalat today is the longest running show in India's television history. This show not only got him the Best Anchor felicitation several times, it also earned him critical acclaim from Prime Minister Narendra Modi himself. He has also been awarded the country's third highest civilian award, the Padma Bhushan by the President of India recently.
Born in a family with very limited means, life was a constant struggle but he did not allow that to come in the way of his dreams to do well in life.
Before branching out into television, Mr Sharma made a mark with a distinguished 10-year tenure in the print media, where he was the Editor of important national publications. In 1995 he created history by launching India's first private television news bulletin that was beamed across satellite footprints in Asia, Europe and North Africa. In 1997, he and his wife, Ms Ritu Dhawan set up their own production house - Independent News Service (INS), the parent company which owns India TV. And in April, 2004 India TV was finally launched as a 24hour Hindi news channel from a swanky studio in Noida.
Within a span of just 4 years, India TV became the most watched Hindi news channel and today the channel's flagship show Aaj Ki Baat anchored by Rajat Sharma at 9pm, has become the leader in prime time news bulletins. No other news channel has managed to even come close to the viewership ratings of Aaj Ki Baat.
The transition from a successful print Editor to an international television news personality, and then to an entrepreneur is perhaps unique in the Indian media.
Under Mr. Sharma's leadership, India TV has created benchmarks in innovation, impact, ratings, time spends, and viewer-support. India TV's newsbreaks have inspired talk shows on rival channels, Bollywood films, BBC documentaries, articles in Time Magazine and even Amul hoardings. His editorial judgement works in perfect synergy with his entrepreneurial prowess.
The channel's popularity is no accident. It is the result of the efforts of a self-made man who kept both his feet firmly to the ground, a journalist for whom the viewer's interest has been paramount.