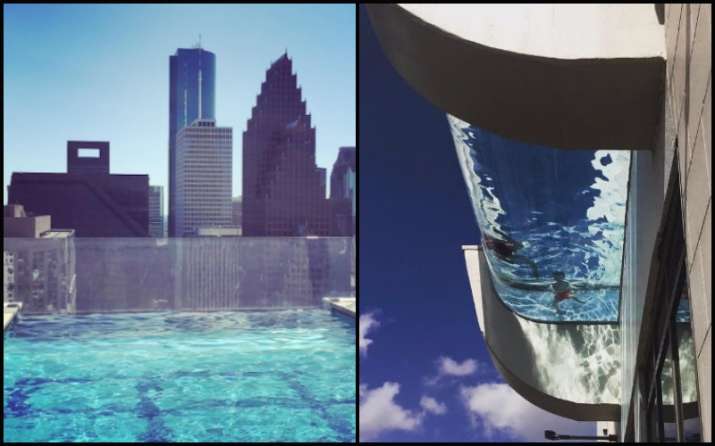 As if a swimming pool at a spectacular height wasn't enough to amaze us, this new marvel is already making the sensation. An Instagram handled, Marketsquaretower shared a video of this jaw-dropping swimming people. In no time, it went viral on the internet. 
In the video, you can see a cantilevered glass-bottomed pool hanging off the 40th floor of an apartment building in downtown Houston. A brave heart is walking on the transparent base of the swimming pool, showing off the view from the glass bottom. The bottom of the pool is made up of an eight-inch plexiglass which extends 10-feet from the side of Market Square Tower. 
The pool is situated at a spine-chilling height of 500 feet above the ground, bagging the record of being the tallest pool in Texas and the only glass-bottomed pool in Houston. 
This marvellous pool is designed by Kudela & Weinheimer Landscape Architects. 
The 1000-room Marriot Marquis Houston has a Texas-shaped lazy river and an infinity pool on it's rooftop, which is 110 feet above the street level. 
If you start exploring the world, you will see more and more such architectural marvels, this glass-bottomed pool being one of them.