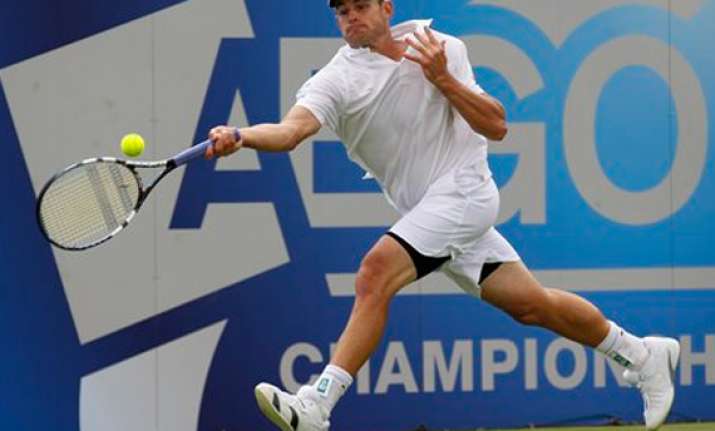 England, Jun23: Andy Roddick's confidence was boosted by winning the Eastbourne Championships on the eve of Wimbledon when he beat defending champion Andreas Seppi 6-3, 6-2 in the final on Saturday.
Tamira Paszek of Austria fought off five match points to defeat fifth-seeded Angelique Kerber of Germany 5-7, 6-3, 7-5 in the women's final.
Roddick entered the event as a wild card after losing his opening match at Queen's Club last week, a defeat that stretched his personal losing streak to six matches dating to mid-March.
It's his 31st career title, ending a 16-month drought.
He looked brisk and business-like against the third-seeded Italian, speeding to a 5-1 lead in the opening set. He was equally dominant in the second set, often forcing his opponent into errors.
After breaking to lead 2-1 he held off a break point and then broke again at love to lead 4-1. Three games later he was a champion again, two days before the start of Wimbledon, where he's been a finalist three times.
Paszek claimed her first title since she won Quebec City late in 2010, and her victory comes after she won just two matches this year with 11 first-round defeats.
The unseeded Austrian battled back from a set and 4-0 down against defending champion Marion Bartoli in the semifinals, and she trailed Kerber 4-2 in the final set of their 2-hour, 45-minute final.
Kerber, who was chasing her third title of the year after winning the Paris Indoor and Copenhagen events, made a blistering start to the match, holding three break points for a 4-0 lead.
Paszek held off that threat and went on to level at 3-3 before Kerber broke again for the set.
Showing greater enthusiasm for battle than her opponent in the second set, Paszek leveled the match by breaking serve twice to set up a tense finale.
Kerber broke serve to lead the third set 4-2 and went on to hold five match points on Paszek's serve at 5-3.
The Austrian fought off the challenge but after slipping during the game she needed her right ankle strapped before continuing play.
Kerber then failed to serve out the match at 5-4, and after Paszek held off a break point at 5-5 she clinched victory on her own third match point by breaking Kerber's serve.
"I don't know what kept me going, how I kept going," said Paszek, who faces former world No. 1 Caroline Wozniacki in her opening match at Wimbledon next week. "I was dead tired in the third set. I could hardly move. I just gave all I had left, and it just was enough."
Kerber was disappointed at the result but satisfied with her week of preparation for Wimbledon.
"She was playing very well in important moments and also when I had the match points. So actually I couldn't do anything," Kerber said.
"Yeah, she won the match, and she played very well today. But I had a lot of great matches, and I won also some good matches here, so now I'm ready for the next week in Wimbledon."
Roddick was thrilled with his week in the genteel atmosphere of the English south coast resort.
"Yeah, it's been great," Roddick said. "You know, it's everything I could have asked for. I feel like I can come here and get my work in. The facility has been great. The courts have been great. There's plenty of practice courts. The community really seems to support this event.
"You know, you're not dealing with the hustle and bustle of a massive city. I think before a major, that's nice. You can kind of come down here under the radar and get my work done and really have a positive week. So it was a really good opportunity for me."