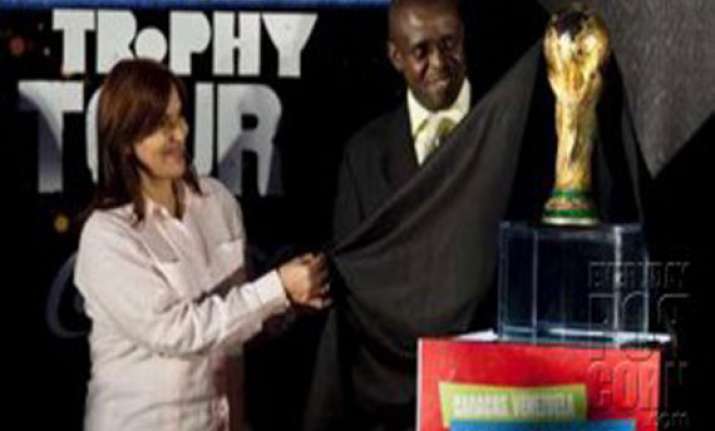 Caracas: The FIFA World Cup Trophy arrived Friday in Venezuela as part of a promotional world tour in the lead-up to this year's championship to be held in Brazil.
Venezuelan Sports Minister Antonio "El Potro" Alvarez presented the trophy to national media and sports fans gathered at the Simon Bolivar International Airport just outside the capital Caracas.
Alvarez was accompanied by FIFA tour ambassador Christian Karembeu and representatives of the National Football Federation.
The 18k gold trophy, measuring about 35 centimetres in height, will remain on show for three days in Caracas, where some 8,000 fans have already obtained tickets to see football's coveted prize.
The trophy will also make an appearance at the presidential palace of Miraflores, where President Nicolas Maduro is scheduled to greet a delegation from the FIFA.
This marks the second time that a World Cup Trophy visits Venezuela, which failed to qualify for the 2014 World Cup. The first time was during the trophy tour preceding the 2010 South Africa World Cup.
The trophy's global tour kicked off Sep 12, 2013.