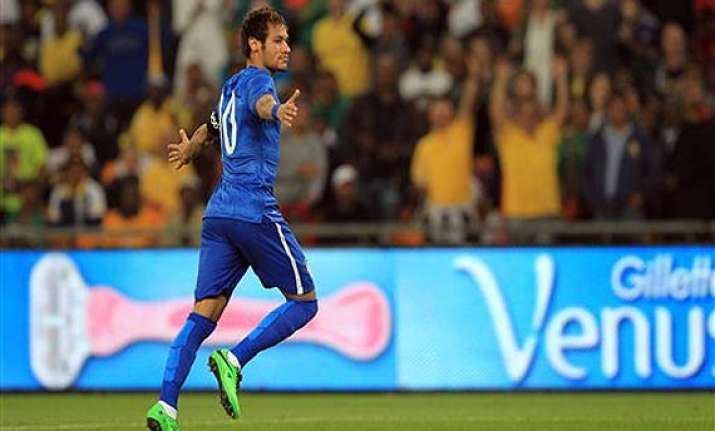 LONDON
: Brazil showed its national team is in better shape than the country's stadiums with a 5-0 thrashing of South Africa on Wednesday, and defending champion Spain overcame Italy 1-0 in its final big test before the tournament kicks off, as teams prepared for the World Cup in a series of friendly matches.   
With less than 100 days before the opening game, four World Cup stadiums are still under construction in Brazil and much work outside the venues remains to be done.
But in Johannesburg, the five-time world champions proved they are more than ready on the pitch, dispatching the Bafana Bafana with a ruthless display at Soccer City as Barcelona striker Neymar claimed his second career hat trick for the Selecao.   
Pedro Rodriguez scored Spain's second-half winner in a rematch of the 2012 Euro final that Italy lost 4-0. It was Spain's final game before coach Vicente del Bosque names his squad to defend its title.   
Argentina superstar Lionel Messi couldn't break Romania's defence as his team was held to a goalless draw. Cristiano Ronaldo was more prolific, as the Ballon d'Or winner became Portugal's all-time leading scorer Wednesday, netting twice in a 5-1 win over Cameroon.
Ronaldo took his international tally to 49 and overtook Pauleta, who retired in 2006 after scoring 47 goals in 88 games. Ronaldo was making his 110th appearance.
"I knew it would come eventually," Ronaldo said. "It's special because I've been in the national team for 10 years now. It's all down to hard work."
Former World Cup winners England and Germany put on lame performances but still managed to win.   
Belgium, tipped as a serious contender in Brazil, drew 2-2 against Ivory Coast.Having struggled both on and off the field since reaching the 2006 World Cup final -- reaching its nadir at the 2010 World Cup when the team went on strike -- France showed an attractive face to end the
Netherlands' 17-match unbeaten run with goals from Real Madrid forward Karim Benzema and Blaise Matuidi.
"I thought my defense played well for the first 25 minutes. But we lost our way a bit after the first goal. It's not the defense's fault ... we lost the ball too much in midfield," Netherlands coach Louis van Gaal said through a translator. "We can't afford to give possession away like that. It was a good test against a good team and that's what I told the players."
France regained some credibility with the prestigious win and Benzema continued his fine form. The former Lyon striker has scored 11 in his past 13 games with Real and is winning over the fans after several months of doubt during which he lost his place in France's starting lineup.
"He's showing the same form he does for Real Madrid. He's very precise in everything he does," France coach Didier Deschamps said. "He's feeling confident and you can see it on his face. He's beaming because he's full of confidence."
At Wembley, Roy Hodgson's team had a poor game and was held until the 82nd minute when Adam Lallana beat two men and crossed the ball for Daniel Sturridge to head it home.   
Germany looked like a shadow of itself at home against Chile but eked out a 1-0 win, with Mario Goetze scoring against the run of play in the 16th minute.   
Brazil coach Luiz Felipe Scolari fielded a team similar to the one that won the Confederations Cup last year for his players' final friendly before the announcement of the World Cup squad.
Neymar took his international tally to 30 goals, with Chelsea playmaker Oscar and Manchester City midfielder Fernandinho also getting on the scoresheet.   
Despite Fred's poor form over the past few months, Scolari kept faith with the Fluminense striker, who again struggled against the Bafana Bafana and was substituted after 62 minutes. In contrast, the 22-year-old Neymar teased South Africa defenders throughout.
He scored his first goal before the interval with a low left-footed shot, made it 3-0 with a subtle chip and rounded off his team's win from close range. Scolari will name his squad on May 7 and there is no doubt Neymar will be selected if he stays fit.
Having lost his momentum at Manchester United, where he only plays intermittently, Shinji Kagawa scored from the spot and had an assist as Japan continued its preparations for Brazil with a comfortable 4-2 win over New Zealand. The hosts were 4-0 by the 17th minute after Shinji Okazaki scored a brace and Masato Morishige added another goal.
Russia defeated Armenia 2-0 courtesy of first-half goals from Alexander Kokorin and Dmitry Kombarov. At Atlanta, Mexico and Nigeria played to a scoreless draw in front of 68,212 fans, with Raul Jimenez's late header for Mexico sailing just wide.
In Central America, Jerry Bengston and Jerry Palacious scored in Honduras' 2-1 home victory over Venezuela, and Arsenal forward Joel Campbell and Jorge Rojas scored in Costa Rica's 2-0 victory over visiting Paraguay.