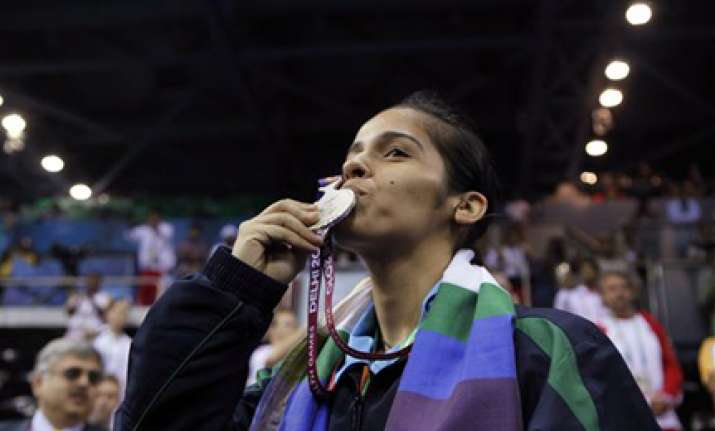 New Delhi, Oct 10: Top seed Saina Nehwal breezed through her match as India continued their rampaging run in the tournament with all the shuttlers in the singles and doubles category winning their respective matches in the individual badminton event of the Commonwealth Games here today.
World number three Saina thrashed Sarah Thomas of Wales 21-5 21-9 to reach closer to her first Commonwealth games gold, while Melbourne bronze medallist Chetan Anand beat Nigerian Ola Fagbemi 21-12 21-6 in 21 minutes to stay on course of bettering his record at the sporting extravaganza.
 Debutants P Kashyap and Aditi Mutatkar also stormed into the third round in the singles event with straight-game victories in their second round match.
 Sixth seed Kashyap saw off 21-5 21-12 Jamaican Pyne Charles, while Pune girl Aditi, seeded fifth, took 17 minutes to make short work of Sri Lankan Subodha Kumari 21-14 21-7 in another match at the Siri Fort sport complex here.
Mixed doubles pair of Jwala Gutta and V Diju, who got a bye in the first round, also stormed into the next round with a 21-13 21-8 spanking of Jamaican Henry Gareth Andre Theodore and Kristal Karjohn Fayonne in a 14-minute match.
While Sanave Thomas and Aparna Balan also continued their good run and beat Nigerian combo of Fagbemi Ebenezar Olaoluwa and Braimah Hajara Maria 21-10 21-8 to reach the third round.
 Rupesh Kumar and Ashwini Ponnappa also struggled past Australian duo of Veeran Raj and Vithi Veeran Renuga 21-16 18-21 21-18 in a 36-minute battle.
Earlier, Aditi had a shaky start as she allowed the Sri Lankan to open a 5-2 lead but the Indian soon clawed back at 9-8 and after surviving some crucial moments moved to 16-13 before pocketing the game.
In the next game, she didn't give Subodha any chance and moved to 11-4 at the break and held her fort to claim an easy win.
Kashyap too didn't face much of a challenge from the Jamaican as he moved to 5-2 first before registering 12 straight points to zoom to 19-5. The next game too saw Kashyap zoomed to a 6-0 lead and held his fort to canter to an easy win.
"It was a kind of easy match. I played a lot of strokes and I had a good rhythm going. In the second game I played a lot of cross court shots and taps and it gave me good points. The next match will be tougher. I hope to do well," he said.
Saina, who got a bye in the first match, took the court amid the cheers of the crowd and the Indian straight away got into business moving to 11-3 at the break.
She kept the shuttle down and played cross court shots to make Sarah huff and puff across the court, grabbing next 10 points while conceding just one to wrap up the first game. PTI