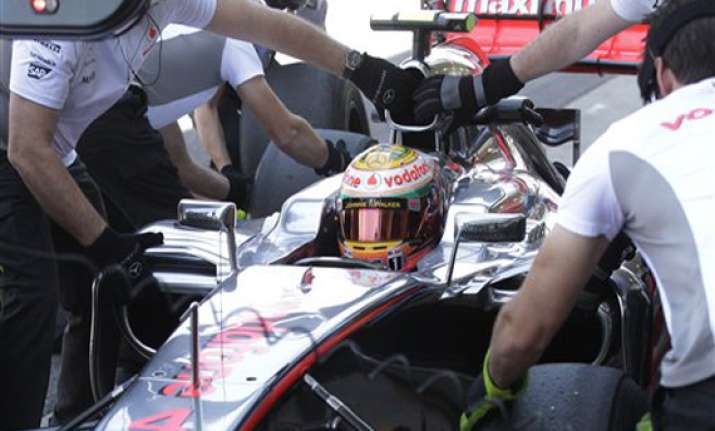 Sao Paulo, Brazil, Nov 24 :  Lewis Hamilton set the pace in the first day of practice for the season-ending Brazilian Grand Prix on Friday, while Formula One leader Sebastian Vettel managed to stay well ahead of title challenger Fernando Alonso.
Vettel was second fastest with his Red Bull at Interlagos, with Alonso managed only the fifth-quickest time with Ferrari.
Hamilton, in his last race with McLaren, had a lap of 1 minute, 14.026 seconds in the second practice session at Interlagos, .274 quicker than Vettel.
Vettel's teammate, Mark Webber, was third in 1:14.523. Alonso clocked 1:14.592 in his afternoon run, just behind Ferrari teammate and home-crowd favorite Felipe Massa.
"We are definitely strong," said Hamilton, coming off a victory at the United States GP. "Our single-lap pace was pretty good. Sebastian had several attempts and it didn't look like that he could really match the time, so that's a positive for us."
Vettel has a 13-point lead over Alonso and needs to finish fourth or better to become F1's youngest three-time champion at age 25.  
He can also be the first to win three titles in a row since Michael Schumacher, who won five consecutive from 2000-04.  
The only other driver to achieve at least three straight was Juan Manuel Fangio from 1954-57.
It was a hot and sunny day, but rain was expected for Saturday's qualifying and Sunday's race in Sao Paulo.
"It's unknown what's going to come, but so far we can be happy with the improvement of the car," Vettel said.  
"We have to do our homework now, first comes tomorrow morning and we go from there."
Alonso said the warm weather kept Ferrari from finding the best set up for Interlagos.
"It was very hot out on the circuit and the track temperatures were well above normal, even for this circuit," the two-time champion said.  
"We have not yet found the ideal balance on the car, so there is still a lot of work to be done."
Drivers from McLaren, Red Bull and Ferrari dominated the first session, but Mercedes improved in the second with Schumacher in sixth place and Nico Rosberg seventh.
"It was a reasonably good day and we kept working on our planned program," said Schumacher, who is preparing for the final race of his illustrious career.  
"The predictions for Sunday at the moment are for rain, so there may be totally different conditions then. We have to see what we can make of today's data and transform it into a good qualifying and, even better, a good race."
F1's most successful driver, Schumacher retired with Ferrari in 2006 and returned with Mercedes in 2010, unable to be competitive and managing only one podium finish, this year.
Red Bull has won the last three races in Brazil and Vettel finished second last year at Interlagos.  
The German driver has finished fourth or better in the last six races this year, and Alonso hasn't won since the German GP in July.
It will be the sixth time since 2005 that the F1 season will be decided at the Brazilian GP. Alonso won both of his titles at Interlagos in 2005 and '06.
Hamilton just barely avoided a collision near the end of the first practice after a Marussia car spun in front of him, and Kimi Raikkonen ran wide at Turn 1 with his Lotus early in the second session, becoming the first driver to test the expanded runoff area added by local organizers at the end of the main straight.
Kamui Kobayashi, preparing for probably his last race with Sauber after the team announced that 21-year-old Mexican Esteban Gutierrez would be Nico Hulkenberg's teammate next season, was 15th fastest in his second run.
HRT, possibly ending its spell in F1 because of financial difficulties, finished near the bottom of the timings with Pedro de la Rosa and Narain Karthikeyan.
Teams were given two sets of the prototype Pirelli tires that will be used next year, allowing them to have an idea of what to expect in their 2013 cars.
Drivers used the new tires during most of the morning session and in part of the second, with Hamilton complaining of overheating at times, while Sauber's Sergio Perez -- who will be replacing the British driver at McLaren in 2013 -- said the new sets had more mid-corner grip.
"The initial feedback we received has been very positive," Pirelli motorsport director Paul Hembery said.