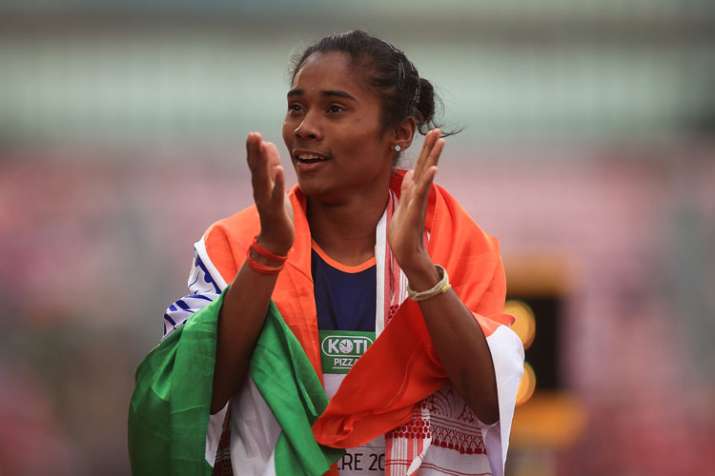 At the age of 18, within one calendar year, Hima Das has made a long leap from the paddy fields of Assam to be the only Indian to win gold at the IAAF World Under-20 Athletics Championships, securing a gold and two silvers at the 2018 Asian Games, winning the Arjuna award and now becoming India's first youth ambassador at UNICEF. The 'Dhing Express' surely knows how to leave a mark in style.
Hima, who won three medals, including gold in 4x400m women's relay at the Asian Games and a historic gold medal in Finland, was appointed India's first ever Youth Ambassador by UNICEF.
Following her idol - Sachin Tendulkar's footsteps, Hima will work towards raising awareness about the rights and needs of children. She will also help amplify the voices of children and young people as active participants in decision making, thus contributing to their holistic development.
"My icon was Sachin Tendulkar and I feel very proud that I have been able to follow his footsteps and become a UNICEF ambassador like him," Hima told IndiaTV. 
"I want for every child, regardless of their background, gender, caste etc to be able to access schools that are safe and supportive so that they can learn and thrive," Hima said.
Hima, who hails from Dhing village in Assam, has been through the thick and thin to now establish herself as a renowned sportsperson. On her message to every child who aspires to become something, Hima says that one wouldn't achieve anything by sitting at home.
"Whatever you do, do it from your heart. It won't happen just by sitting at home. You have to take that one step forward, then only the people would notice you. Everything happens at one step at a time." 
Hima became an overnight teenage sensation after clinching gold in the U-20 World Championship in Finland.