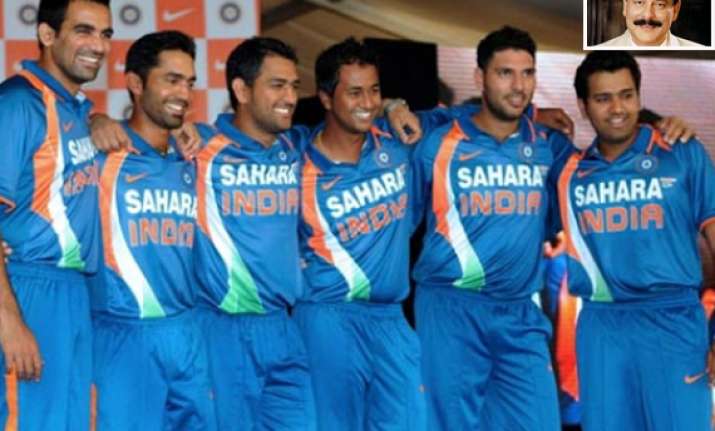 New Delhi/Bangalore, Feb 4 :  Indian cricket was today hit by a major sponsorship crisis after Sahara India ended its 11-year-old financial ties with the BCCI and also pulled out of the IPL by withdrawing from Pune Warriors' ownership just hours before the players auction for the fifth edition.

Unfazed by the surprise development, the IPL authorities went ahead with the auction, saying that no written communication had come from Sahara about their pullout.  Sahara's decision to severe all ties with the BCCI came as a surprise particularly at a time when the Board has been struggling to find long-term sponsors and the team's miserable show in the tour of Australia and England. 

The company, which has divested into various sectors, gave detailed reasons for its "emotional decision" to pull out from BCCI as well as the IPL and accused the Board of not giving due consideration to its genuine grievances.  Sahara had signed a renewed agreement with the BCCI on July 1, 2010 till December 31, 2013 and was paying Rs 3.34 crore per Test match, one-day international and Twenty20 International under the new terms.

"...after an 11-year journey as sponsors, we can say with surety that cricket has become very rich. Many rich people are there to support cricket with a strong will to do so. So, with absolute peace of mind we can exit from cricket under BCCI and are exiting with a heavy heart," Sahara said in a statement. 

"It was an emotional decision for us to start this sponsorship but our emotions were never appreciated and many genuine situations were not given due consideration at all," the statement read.

Sahara, which entered the cash-rich IPL bandwagon last year along with the now-disbanded Kochi Tuskers Kerala, bought Pune Warriors for 1702 crore last year. The company complained that several requests put forth by it with regards to players and the number of matches were not accepted by the BCCI.  The BCCI, on its part, appeared to be nonchalant about Sahara's decision and said it would react only when it gets written communication.

"Unfortunately we have not received anything in writing from Sahara. So, we cannot communicate. IPL will continue. The show has always gone on and it will continue to do so," IPL Chairman Rajiv Shukla told reporters.

"The IPL rules are very clear. For an injured or sick player, they can take a player as replacement," he added.  IPL CEO Sundar Raman said that whether Pune Warriors will play or not has not been communicated.

"It is not mandatory for them to sit in the auction. They can go in with the same team in the next edition. They had requested for some flexibility of amendments but the IPL authorities were not prepared to make an exception for any franchise," he said.

Sahara said the BCCI has been citing rules again and again to deny their requests."Our first entry into IPL was thwarted in 2008 when we were disqualified, owing to a small technicality on the whims and fancies of BCCI. Yet our Bid was not opened," the statement said.

"Last year, Sahara entered the IPL on the basis of information in the media and everywhere else that 94 matches will be played among 10 teams. The bid price was accordingly calculated, but only 74 matches were played. We are still pursuing continuously with the BCCI to refund the extra bid money proportionately. It has been denied on the basis of strict rules.

"In the interest of the tournament, we repeatedly tried our best to pursue the BCCI for open auction of all players so that we achieve level playing field and all teams are equally balanced from the quality players' point of view. Again, as per BCCI's strict rules it was denied and again, we were deprived of natural justice. 12 of the best players were retained by the existing teams then," it added.  "The two new teams then requested for allowing us at least one extra foreign player but that too was denied, quoting rules."

Sahara's marquee player in the IPL is skipper Yuvraj Singh, who is currently recovering from tumour in the lungs.  His unavailability in the IPL this season prompted Sahara to ask the BCCI that the price of the batsman be added to their overall purse for the players auction but the request was turned down.

"Yuvraj Singh, who is truly like one of our family members, is, quite unfortunately, passing through a bad phase health wise, undergoing treatment for critical illness, overseas.

"Our duty is to take care of him, so Sahara has decided to pay him his full fee this year with condition as a Guardian that his priority should be health care and he should not play till he has fully recovered," the company stated.  "We requested the BCCI on the basis of the fact that we have only one Indian marquee player, that we be allowed to add price of Yuvraj Singh in our auction purse, during the February 4 auction because we had later taken Sourav Ganguly at 0.4 million.

"Again, we have been denied on the basis of the rule book. Yet again, a case of being denied natural justice. We think this peculiar situation of Shri Yuvraj Singh is silent in the rule book because it probably talks only about players who are temporarily injured."Sahara is apparently also unhappy with the fact that Royal Challengers Bangalore were allowed to buy replacement player Chris Gayle this season.

"The manner in which Gayle was bought was not liked by many franchises including Sahara," a Sahara official said on condition of anonymity.Sahara said even during the Champions League Twenty20, an injury-plagued Mumbai Indians were allowed to field an extra foreign player due to the crisis in the team but such gestures were never extended to Pune Warriors.