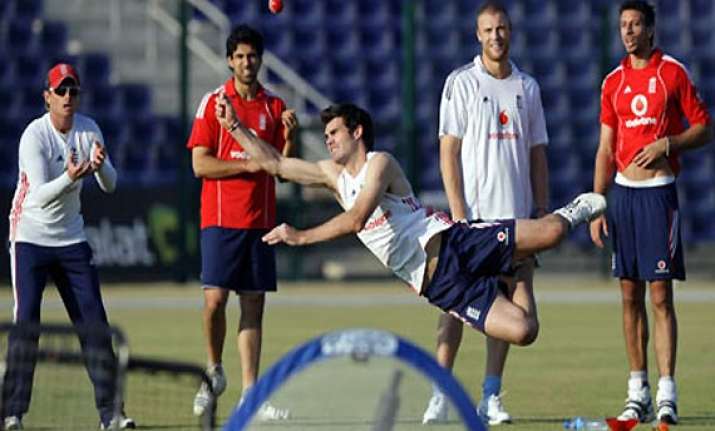 Leeds, May 23: How long New Zealand can hold its nerve against England's bowlers will determine the fate of the second and final test starting at Headingley on Friday.
For 18 straight days spread over four tests this year, New Zealand punched well above its weight and rattled the English.
But on the 19th day, last Sunday, England revealed its capabilities on a home pitch at Lord's offering swing, seam and turn. The Kiwis were routed for 68 for England to win the opening test of this brief series by 170 runs and more than a day.
England, despite still being far from polished, will resume at Leeds inspired in believing that if it can put up a decent amount of runs, it has the bowlers and knowhow to achieve only its second series sweep of the Kiwis in 35 years.
As difficult as Lord's tricky pitch was, especially under cloud cover, Headingley's will be more of the same. Clouds and showers are in the forecast, ideal for the seamers in both sides, but not good news for New Zealand's batsmen, who didn't help themselves by a lack of technique and patience.
Notably, openers Peter Fulton and Hamish Rutherford have yet to see an eighth over. Since arriving in England, Fulton's scores have been gory -- 21, 3, 7, and in the test: 2 and 1.
But coach Mike Hesson will keep faith with his top six batsmen, believing that what captain Brendon McCullum called "an hour of madness" last Sunday shouldn't undo months of hard work and cause panic stations, even though they admit panic set in at Lord's.
But the Kiwis will make changes, albeit enforced, against England for the first time this year after wicketkeeper BJ Watling and spinner Bruce Martin failed to recover from leg injuries at Lord's.
McCullum will keep wicket and
Martin Guptill
will replace Watling in the lineup. Guptill lost his place before the home series with England in March because of a left thumb injury. Martin will be replaced by either former captain Daniel Vettori or paceman Doug Bracewell.
Vettori's 111th and last test was on the tour of West Indies in July. The changes bolster the batting lineup, but England bowling coach David Saker finds it hard to believe New Zealand can rediscover the confidence to win at Headingley.
"The one thing we've learned in recent months is that New Zealand are a bloody good cricket team," Saker said. "They've competed extremely well against us and we've found it really hard to get them out. And their bowlers have been as good as any bowling attack. They've been so disciplined.
"But it can definitely hurt you being bowled out for 68. When the ball moves, we have a lot of teams' measures. We've some good skilful bowlers. Some days in England it is very tough to bat and now we have a chance to keep kicking them."
Lord's so revitalized the English bowlers, who were subpar in New Zealand, that James Anderson was hailed by Saker as the finest swing bowler in the world. Ian Botham believed Anderson, who became the fourth Englishman to reach 300 wickets, will eventually eclipse him to be England's greatest wicket-taker.
But just as England has its bowlers back in order, the batsmen have proved to be vulnerable to New Zealand seamers
Tim Southee
,
Trent Boult
and Neil Wagner, who have also found conditions to their liking and give the visitors their biggest reason to be optimistic.
The failure of England's middle order has created a long tail. At Lord's, England disintegrated from 192-4 to 232, and from 159-2 to 213.
Joe Root, who scored 71 in the second innings, more than New Zealand, has been the hardest to root out, no pun intended. He's made 756 first-class run in six innings in this English season, and has an outside chance of becoming the eighth man to achieve 1,000 runs before June 1. Don Bradman did it twice.
Root's form, combined with fellow Yorkshireman Jonny Bairstow, has helped boost ticket sales for the test at their home ground. A third local, fast bowler Tim Bresnan, could be recalled if England decide Steven Finn didn't offer enough at Lord's or the pitch won't be suitable again for spinner Graeme Swann, who was surplus for the last test at Headingley, the draw with South Africa last August.