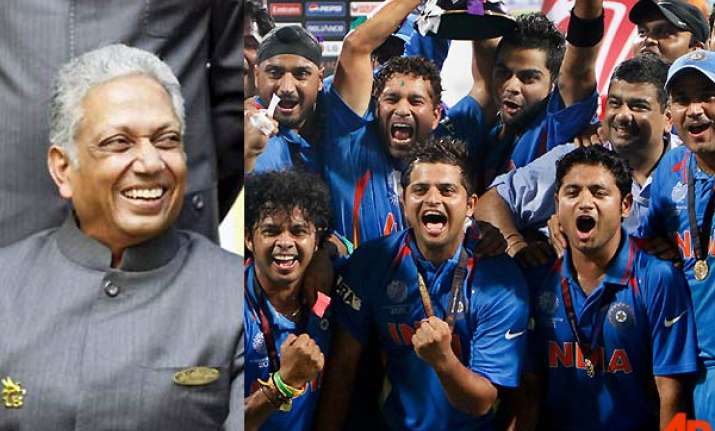 Mumbai , April 4 : Team India led by M S Dhoni will fly off to the West Indies on May 28 to play five one-day internationals and three Test matches immediately after IPL-4, and there are indications that Mohinder Amarnath may be asked to accompany the team as an interim coach, reports Mumbai Mirror.

With Gary  Kirsten's successful reign coming to an end, the hunt for the Indian team's next coach has gained momentum.  The BCCI, thus, has little time on hand to finalise a proper replacement for Kirsten.

There are a few names doing the rounds in the BCCI corridors.  Due to lack of time, a board official revealed that former India all-rounder Mohinder Amarnath would be asked to accompany the team as a stop-gap arrangement. There is also a possibility that the current bowling coach Eric Simons will be retained.

For the long term, however, the BCCI is said to be interested in bringing current England coach Andy Flower on board. But the former Zimbabwe captain's contract with the England and Wales Cricket Board (ECB) runs till 2012.

Another Zimbabwean who is on the board radar is Duncan Fletcher, who now operates purely as a consultant following his seven-year stint with the England team.

 "It will take a few days to zero in on someone as there are lot of opinions and counter opinions right at the moment," a top BCCI official said.

The BCCI, it is believed, want Flower to make the first move as poaching him would only harm their relations with the ECB.

 "We have a good relationship with the ECB and we don't want to spoil that, but if he is interested, we will surely consider him for the job. He has done a pretty good job in moulding the English side into a formidable unit in the last few years," the official said.

Flower has had a successful stint with the England Test side and it was only late last year that he coached England to a sensational win over Australia. "As far as I am concerned, a foreigner, particularly a South African will be preferred, keeping in mind Kirsten's successful stint with the Men in Blue," he said.

Incidentally, the BCCI had assigned Kirsten the task of finding his own replacement. But he still has to make up his mind on that front.

"He was asked to find someone, but he hasn't reverted back to us with his choice. So in that case there is every possibility that Amarnath may be asked to shoulder the responsibility as an interim coach for the tour of West Indies so that we buy some time to pick a permanent coach," the official stated.

It may be recalled that Amarnath was interviewed for the job back in 2005 along with Greg Chappell, Tom Moody and Sandeep Patil. Chappell eventually was chosen over Amarnath.