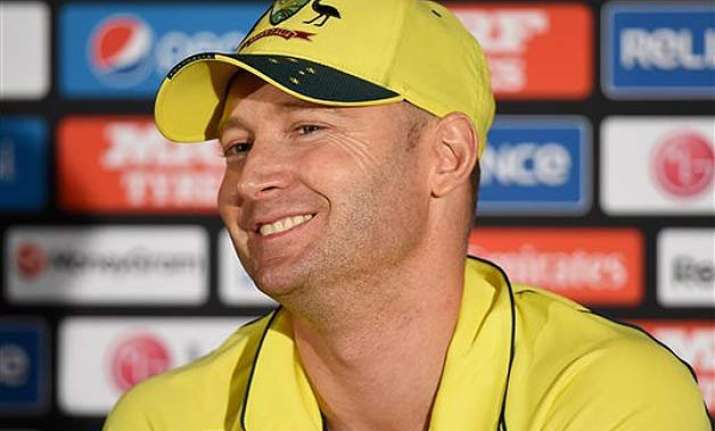 Melbourne: Australian skipper Michael Clarke has said he would like to see five fielders outside the 30-yard circle instead of the current four during "powerplays" to allow bowlers more protection during field restrictions in One-Day International (ODI) cricket.
Currently only four fielders can be placed outside the 30-yard circle during "powerplays" which helps batsmen to score at a brisk pace.
His sentiments are similar to Indian captain Mahendra Singh Dhoni who felt that the current ODI rules are loaded heavily in favour of the batsman.
Clarke's comments add more fuel to growing calls by several experts who demand a change in the rules. The 2015 World Cup has seen a rise in match scores as new rules have facilitated batsmen to score freely.
"I guess what I really loved growing up was I loved five fielders out rather than four fielders out. I think it gives the bowlers more of a chance. I think it brings spin a lot more into the game," he said after leading his team to title triumph against New Zealand on Sunday at the Melbourne Cricket Ground.
"The only thing is it probably means the runs scored aren't going to be as high as what they have been throughout this tournament. But I like that extra fielder out for the bowlers, especially these days, the wickets are pretty good for batting."
Australia won the final by seven wickets to lift the trophy for the fifth time. Clarke also spoke against bowling with two new balls upfront saying it takes the reverse-swing factor out of the game and gives the bowlers little chance of taking quick wickets.
"And I've always liked reverse swing playing a big part in any format of the game, and I think two new balls probably takes that out of the game. You don't see as much reverse swing. I think back to when I started my career, that was two areas of the game that it was quite hard."
The 33-year-old said it is hard to score if the ball reverse swings.
"It's hard to score when you walk in to bat on zero and the ball is reverse swinging, it gives the bowlers a chance of getting you out early. So yeah, they're probably two of my personal preferences that I really enjoyed through my career," he said.