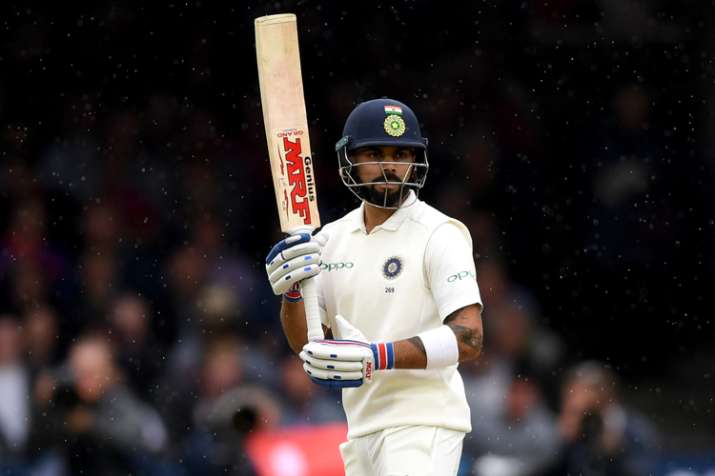 India captain Virat Kohli has issued an emotional message for fans after the team's debacle at Lord's. The Indian faced an embarrassing defeat against England in the second Test to go down 0-2 in the five-match series. Following the loss, captain Kohli and head coach Ravi Shastri have been facing a lot of flak from all quarters. The under-fire skipper has now urged the fans to keep supporting the team during its tough time. Kohli has posted a photo of team huddle to show unity and shared a positive message with fans, "Sometimes we win and other times we learn. You never give up on us and we promise to never give up on you either. Onwards and upwards," he posted on Facebook.
India suffered an embarrassing 159-run innings defeat in the second Test against England after yet another batting failure on day four at Lord's.
Indian batsmen failed to learn from their mistakes and were all at sea against the moving ball as the second innings folded up for 130 in 47 overs. James Anderson (4-23) once again toyed with the opposition, taking his match tally to nine, and equally effective was Stuart Broad (4-44).
The Indian batsmen let the team down also in the first Test but the away side at least put up a fight. Here at the 'Home of Cricket', the Virat Kohli-led unit showed no semblance of a fight, bringing back the haunted memories of the previous series in 2014 and 2011.
In a post-match interview at Lord's, Kohli said: "We have to accept the mistakes, learn from them, put them aside, make sure we're not thinking about the same mistakes again, rather get confident and not repeat those again,"
"We're thinking of nothing else but to go 2-1 in the series, and from thereon build on that strongly. We know that we do have the bowling attack to pick up 20 wickets and as batsmen, we should think of that as an opportunity to score runs and make the team win games. What is sad is that we haven't had those two skills come together," the Indian skipper said.
With PTI Inputs