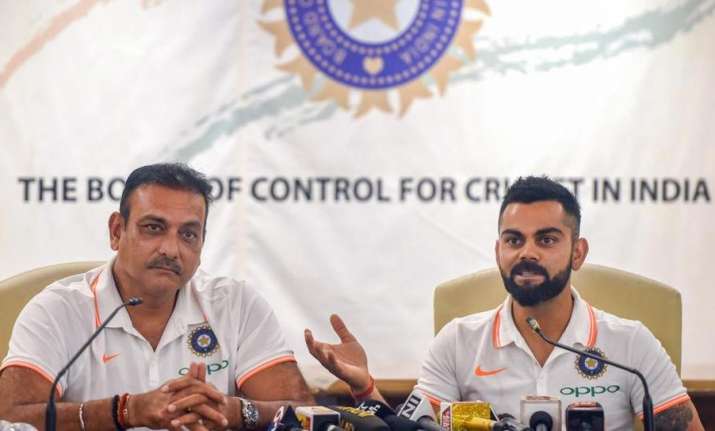 Team India skipper Virat Kohli and coach Ravi Shastri addressed the media in the pre-departure press conference on Tuesday and they had only one message to deliver: 'If we play to our potential, the cup might be here.'
Kohli & Co. will embark on their journey to England later on Tuesday night as the team seeks to bring India their third-ever 50-over World Cup in July.
India are going ahead with a full-strength squad with Kedar Jadhav announced fit and will play two warm-up games against New Zealand and Bangladesh before their first game against South Africa on June 5 at Rose Bowl.
"The only expectation we have to play really good cricket and that's why the results have come over the last two-three years. We have a very balanced squad and you saw that in the IPL as well. Everyone is in really good form. So, that is the focus," Kohli said.
"It is always good to go any place in advance and it gets rids of the nerves going into The conditions are not that difficult to Test cricket in England," the Indian skipper felt on going to England earlier.
Kohli also backed Kuldeep Yadav to come back stronger after a disappointing IPL, where he was dropped by Kolkata Knight Riders towards the end of the tournament.
"In hindsight, if you look at it, for someone like Kuldeep who has had so much success it is better that it has happened in the IPL and not World Cup. So he can work on it and come back stronger. He along with Yuzvendra Chahal are the two pillars of the Indian bowling," Kohli explained.
The 30-year-old, who is playing his third World Cup after 2011 and 2015 feels that this is the toughest tournament he has played yet because of the format.
"I personally feel this is the most challenging World Cup probably of the three I have played in because everyone is playing everyone and any team can beat anyone on their day. But, if we live up to the best of our potential, we will more often than not end on the right side of the results," Kohli said.
Shastri once again stole the show with a headline statement with his usual swagger.
"If we play to our potential, the cup might be here," said Shastri.
Shastri also hinted at being flexible and not committing to any particular combination.
"Our mantra will be to be flexible and flexible according to the conditions. The pitches might be flat but if overcast conditions change, there might be changes. 
"Any other country, overcast conditions doesn't matter but in England it does. So, you have to be ready for that and be flexible."