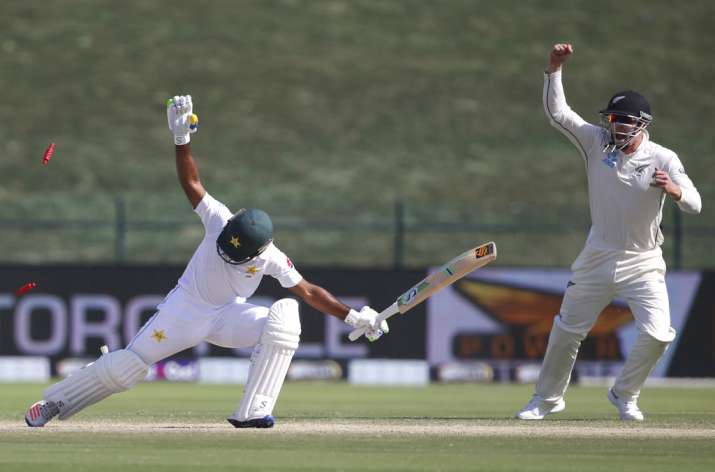 In what could be one of the most sensational comebacks in Test cricket history, New Zealand did the unthinkable as they defeated Pakistan by 4 runs on Day 4 of the 1st Test in their backyard. Azar Patel's fifer on his debut saw off Pakistan in style to help the visitors take the lead in the three-match series 1-0. 
The pressure immensely falls on Pakistan as they were at one point close to winning the match, but a sudden collapse saw the batsmen falling one after the other, only for them to lose the 1st Test by a narrow four runs. The Sheikh Zayed Stadium in Dubai was dead silent and only the New Zealand players' celebration could be heard. 
Pakistan, hence squandered the chance to take the lead. On Day 3, Pakistan required just 175 runs to win the match. They had a comfortable two days to play after bundling out the visitors for 249 in the second innings. However, the Kane Williamson side made an incredible comeback to stun Pakistan. 
Twitter was left astonished and flabbergasted. Here's what they had to say. Take a look. 
I thought Sri Lankan politics is the most unpredictable thing but I was wrong Pakistan batting line-up is still the most unpredictable thing! #PAKvsNZ

— Chamal Asela Perera (@chamalAsela) November 19, 2018
@AzharAli_ had the golden chance to be a hero like @InziTheLegend
Opportunity grassed...#PakvsNZ
What a test match !!

— Umair Usmani (@Usmani81) November 19, 2018
Fifer for Ajaz Patel ........

Ek Baar Phir Hindustani Bande se Match Haar Gaye Pura .........😂😂😂😂#PAKvsNZ

— A.D.I ⛺⛺⛺ (@DaantTodDunga) November 19, 2018
After this mighty performance by Pakistan in their rented home, ICC should take back the international status from Pak and hand the title to UGANDA CRICKET TEAM. Do it ICC. #pakvsNz

— Haider Ali Khan (@HaiderAli_100) November 19, 2018
mickey arthur
Don't do it
Don't do it
Don't do it
Don't do it
Don't do it
Don't do it
Don't do it

Pakistan cricket team: "Let's do a Pakistan" #PAKvsNZ

— Sudeep gautam (@gsancus) November 19, 2018
Hats off to @AzharAli_ who couldn't even hit a single boundary when only 6 runs were required..... just shameful....#PAKvsNZ

— DOC Arslan (@arslanamin1) November 19, 2018
Mickey Arthur waiting for Pakistani
Team In airport #PAKvsNZ pic.twitter.com/EXL06eCDDQ

— javeed Belif (@JaveedBelif) November 19, 2018
This guy #MickeyArthur (poor soul) will get heart attack someday and I'm thinking to register FIR in advance against Pakistani batsman's#PAKvsNZ

— SHAHARYAR (@SHAHARYAR__) November 19, 2018
New Zealand have taken a 1-0 lead in the three-match Test series against Pakistan. The 2nd Test will begin from November 24 at the Dubai International Cricket stadium.