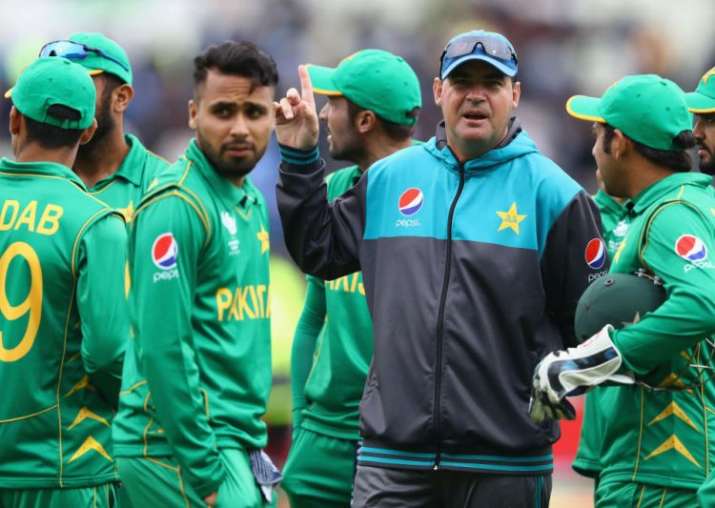 With eyes on 2019 ICC ICC World Cup, Pakistan head coach Mickey Arthur strongly belives that upcoming third edition of the Pakistan Super League (PSL) will unearth two players that the national team needs to complete the squad for the 50-over megaevent.
Insisting that the PSL has played a vital role in developing talent from the country, Arthur gave the examples of Hasan Ali and Shadab Khan who rose to fame following their good performances in Pakistan's T20 league.
"I feel that the PSL has been wonderful in developing talent. The first edition of the PSL unearthed Hasan Ali whilst the second edition brought to light the talent of Shadab Khan. I am hoping that PSL 3 will unearth another 2 players of talent for Pakistan and that will complete the jigsaw for our 2019 World Cup squad. So, I am looking for 2 players in this PSL to stand up and be part of our future," Pakpassion.net quoted Arthur, as saying.
Arthur, however, emphasized that the two players could not just afford to be good in just one discipline and that they have to perform well in fielding as well.
"What I would like the new players to be able to do are two things that will get them to play for Pakistan. They cannot be good in just one discipline so if you are a bowler, you have got to be fielding properly. Similarly, if you are a batsman, you have to be good in the field as well. That is how we win games. So, players that aren't good in the field will have to battle very hard to get into the team as they won't fit into the brand of cricket we are looking for," the Pakistan coach said.
Arthur said that his presence in the league would allow him to check if the players are suitable for playing at the international level or not.
"Of course, it is and that is the benefit of me coaching the Karachi Kings. In this way, I can get to see so many young players close at hand and I am able to witness Pakistan's best young domestic cricketers in action. This will allow me to check if they are suitable for playing at the international level or not. That to me is the benefit of coaching at the PSL which is great and obviously something that I need to do," said Arthur, who will coach Karachi Kings in the upcoming PSL.
Karachi Kings will begin their PSL campaign against Quetta Gladiators on February 22. The third edition of the tournament will also see two of its playoffs in Lahore, while the final is slated to be played at Karachi's National Stadium on March 25.
(With ANI inputs)