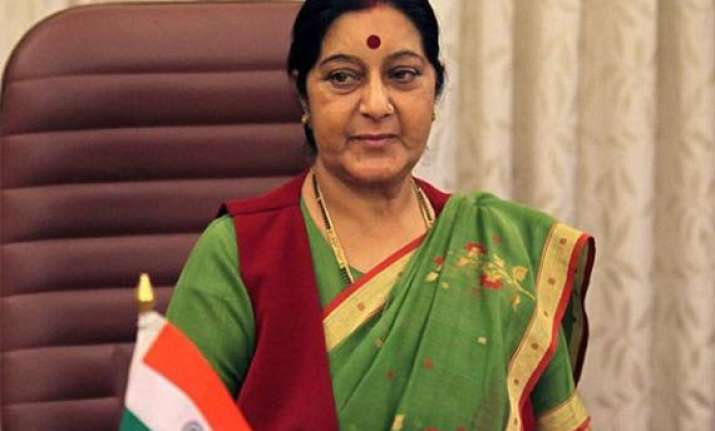 New Delhi: External Affairs Minister will travel to London on Thursday to participate in the regional Pravasi Bhartiya Divas, being organised to reach out to 1.3 million Indian diaspora in Europe and project trade and business opportunities in India.
This smaller-scale version of the mega PBD, held every January in India, is being organised to bring together members of the Indian diaspora in Europe at a common platform and explore ways to enhance two-way engagement.
It will be inaugurated by Swaraj on October 17 at Queen Elizabeth II Conference Centre in Westminster, the political hub of the city.
Swaraj will meet her counterpart Philip Hammond and is likely to discuss various bilateral and international issues of mutual interests. She will also call on Deputy Prime Minister Nick Clegg, External Affairs Ministry Spokesperson Syed Akbaruddin said.
Asked about reports of Prime Minister Narendra Modi's visit to the UK in January, he termed them as totally speculative.
Swaraj will not be able to call on Prime Minister David Cameron as he will be attending the Asia-Europe Meeting (ASEM) in Milan.
To woo the investors, the government will highlight its efforts to make India an attractive investment destination during the round-table and business-to-business meetings to be held as part of the Regional PBD which is likely to be participated by over 1,000 delegates.
The event, being organised by the Ministry of Overseas Indian Affairs, will feature discussions on topics such as the role and contribution of the Indian diaspora to the British and European societies and economies, opportunities and challenges in India-UK collaboration in trade and investments, including in third countries.
Discussions will also feature how the diaspora and Indian government can leverage each other's strengths to mutual benefit in the framework of India-UK strategic partnership.