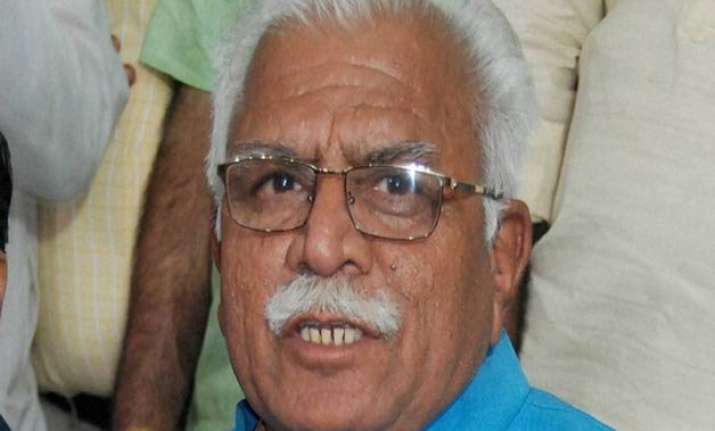 Chandigarh:  The state government has fulfilled its responsibility towards farmers by timely completion of special girdawari (crop loss assessment), disbursement of compensation and smooth procurement of their crops, Haryana Chief Minister Manohar Lal Khattar today said.
The Chief Minister said this while addressing farmers who called on him to express their gratitude for supporting them in their hour of crisis.
"Immediately after the untimely rains and hailstorms, the government announced special girdawari, released Rs 1,092 crore as compensation for damaged crops and made adequate arrangement for procurement of each and every grain of farmers," he said.
Khattar said the government is fully committed to serve the society and ensure all round development.
"Power and authority will not be used as a medium to attain political benefits," he said.
"Being an agrarian state, entire government machinery is standing firmly beside the farmers in their time of trouble," he added.
"In addition, we also decided to bear value cut loss of wheat to give maximum relief to farmers and also took care for interest of Aarthias (commission agents)," he said.
The government would also ensure that entire purchase of wheat can be utilized in a proper manner, he added.
The Chief Minister said the government had also decided prompt disposal of all pending mutation cases every month by way of making the mutation system computerized.
He said that land consolidation was also pending in villages due to the unrealistic decisions of previous government.
The government has also decided for speedy disposal of all pending land consolidations by the end of current financial year.
"For this, we would impart training to 1,000 patwaris (revenue officials)," he added.
While referring to shrinking land holding, Khattar said some new systems would have to be evolved for serving the interests of small and marginal farmers who are either engaged in cooperative farming or other agro related fields.
The government is formulating a scheme to support and facilitate small and marginal farmers, he added.
He said that his government would implement welfare polices and developmental schemes in such a way that the benefits reach the common man.
While reiterating the commitment of providing corruption-free administration to people, Khattar sought the cooperation of people to completely root it out.
Those who had minted money by indulging in malpractices or wrongdoings be it scam of seeds, medicine, land or any other would not be spared at all, the CM said.
When the results of these scams would be made public, no leader would dare to make such mistakes for the next 20 years, Khattar said.
"We have also given six months time to officers and officials to eschew corruption. Now the state government will move fast to fix those who are indulging in corruption," he added.
Speaking on the occasion, Agriculture Minister O P Dhankar said the present government is pro-farmers.
Taking a dig at former chief minister Bhupinder Singh Hooda, he questioned how they can project themselves as the well wishers of the farmers.
He said that previous government had given maximum compensation of about Rs 240 crore to farmers whereas the present government had released Rs 1,092 crore for crop loss this time.
Hooda had announced to give minimum compensation of Rs 250 but failed to implement the same, he alleged.
The state government had decided to give minimum cheque of Rs 500 as compensation.
Relief of about Rs 2,000 crore included waiving of interest on crop loans, tube-well bills and payment of sugarcane have been given on a single crop to farmers, he added.