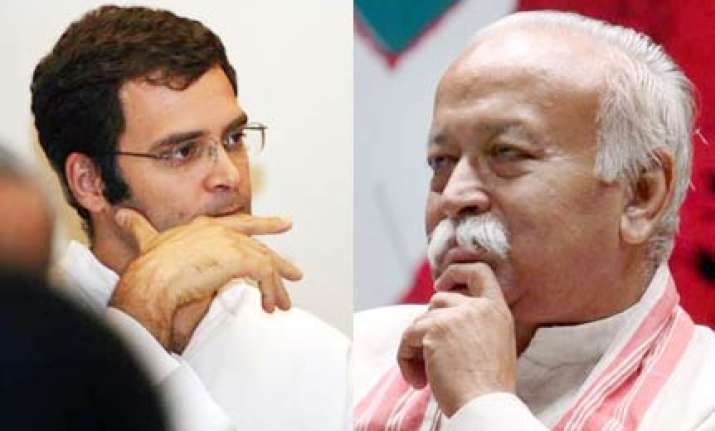 In remarks that has triggered a controversy, Congress leader Rahul Gandhi said on Tuesday that he felt there was not much difference between the banned outfit SIMI and RSS as both were "fanatical" and held "fundamentalist" views.
When a reporter told him he had made a controversial statement equating the two groups on Tuesday in Tikamgarh, Madhya Pradesh,  the young MP said he failed to see any controversy in it.
When pointed out that the radical Students Islamic Movement of India (SIMI) was a proscribed outfit, which was not the case with the Nagpur-headquartered right-wing group, Gandhi stated this did not matter much for him.
"I know only that both SIMI and the RSS were fanatical and held fundamentalist views, " he asserted.
There can be no place for people with fanatical views in the Youth Congress, said Gandhi, who is in-charge of youth wings of the Congress.
The young Congress leader is on a tour of BJP-ruled Madhya Pradesh.
Asked about the Ayodhya title suit verdict, Rahul Gandhi said it neither condoned the demolition of the Babri Masjid nor the large-scale violence that followed the December 6, 1992 event.
The Amethi MP said the aggrieved parties were free to approach the Supreme Court against the decree, which calls for three-way division of the disputed site, if they so desired.
To questions on his becoming the Prime Minister, Gandhi said he has never worked under the assumption that he would one day occupy the top slot.
"It may be your assumption that I will become the Prime Minister but it is certainly not mine," Rahul said.
When told that it was his destiny to become the country's Prime Minister, he said, "I don't believe in destiny."
Gandhi was full of praise for Prime Minister Manmohan Singh who is "doing a fine job".
"We have a very capable Prime Minister. He is much more capable than me. He is on the job. My responsibilities are Youth Congress and NSUI and I am doing that."
Asked whether a youth will become the next PM, Gandhi refused to speculate but left everyone guessing, saying "What can be told about the future. Who can tell it".
Reacting to this, RSS spokesperson Ram Madhav said, the RSS does not need a character certificate from Rahul, who, he said, knew little about India and its society and probably knew much about Italy and Colombia. 
BJP spokesperson Prakash Javadekar said to compare a militant organization like SIMI with a 'nationalist' organization like RSS was an act that deserves to be treated with contempt.
Reacting strongly  BJP today said the young leader seems to have lost his mental balance and shown political immaturity by his comments.
"Only a sick mind can do it (compare RSS to SIMI). He seems to have lost his mental balance. RSS is an institution of nationalist thought while SIMI has been banned by their (Congress) government as it was banned by us when we were in power," BJP spokesperson Prakash Javadekar said.
Javadekar said, "Congress knows it is not winning in Madhya Pradesh. I can understand its frustration. Congress has been losing elections of late, be it the NSUI losing student union elections in Delhi or the party losing by-elections in several states. Rahul Gandhi's magic is not working for the Congress." 
He insisted that RSS had served the nation during crises in the past and its contribution to the country was immense. 
"Rahul Gandhi has shown political immaturity and engaged in unruly behaviour," Javadekar said. 
BJP General Secretary Dharmendra Pradhan maintained that Gandhi's views on RSS were "unfortunate". 
"I consider it unfortunate. It shows a lack of understanding in Rahul Gandhi.... It shows his mental bankruptcy," he said. 
He claimed that the RSS had played a big role in the cultural and political development of India. India's first Home Minister (Sardar Patel) had invited RSS to participate in the first Republic Day parade, he said. 
Slamming the Congress, Pradhan said, "They supported PDP Chief Abdul Nasser Madani, The Popular Front, Muslim League and MIM and had alliance with them." PTI