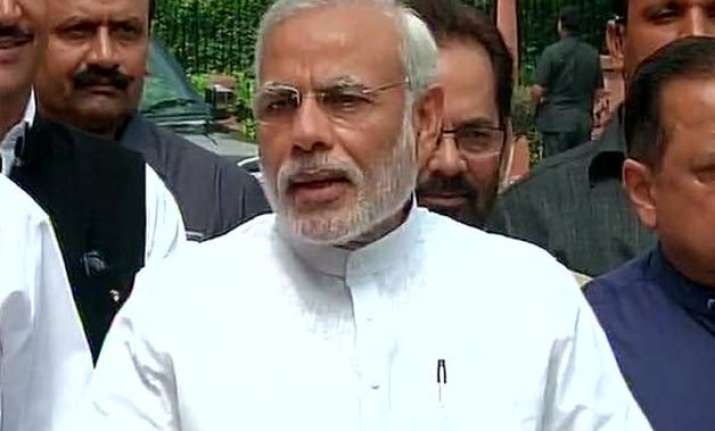 New Delhi: Prime Minister Narendra Modi today expressed hope that the Monsoon Session of Parliament will be fruitful and all MPs will contribute towards making good decisions.
"Hope in this session good decisions will be made, Parliament will act as medium for debating issues of the country. Want to ensure smoothing functioning of the Parliament," Modi told reporters outside the Parliament.
The three-week long Monsoon session of Parliament is all set to start from today with the opposition warning of disruptions and the government saying it will give an equally aggressive response on several issues including Lalitgate, Vyapam scam, Land Bill and GST Bill.
Sixty-four bills, including the Land Acquisition Legislation, are pending in the Parliament at various stages. According to PRS Legislative Research, other important pending bills are GST Bill (122nd Amendment Bill); Prevention of Corruption (Amendment) Bill, 2013 and Whistleblowers Protection (Amendment) Bill, 2015.
There are some bills like Companies (Amendment) Bill, 2014; Regional Rural Banks (Amendment) Bill, 2014 and Public Premises (Eviction of Unauthorised Occupants) Amendment Bill, 2014 which have been passed in Lok Sabha, but are waiting the approval of Rajya Sabha to become a law.
There are some bills like the Nuclear Safety Regulatory Authority Bill, 2011 which were introduced by the then UPA government but are yet to be passed by the Parliament.
The government has a majority in Lok Sabha, but does not have the required number in Rajya Sabha, which has resulted in non-passage of many legislations. For a bill to come into force and get a presidential assent so that it can become an act, it has to be passed by both the Houses.
Yesterday, in a meeting of National Democratic Alliance (NDA) leaders, Prime Minister Narendra Modi told allies that the government should not be on the backfoot against the opposition. He also called on the allies to appear united, and promised to look into the concerns of allies opposing the Land Bill.
"The Prime Minister said the government should not be on the backfoot in Parliament," Shiv Sena leader Sanjay Raut said, adding that "If the opposition is aggressive, we will also be in combat mode."
The opposition parties are prepared to launch an attack on the government over issues ranging from the Lalit Modi controversy to the Vyapam scam, with the Congress insisting on the resignation of "scam-tainted" ministers.
The government has, meanwhile, decided not to bow to the opposition demand, and is also prepared to raise the Goa bribery case allegedly involving some Congress leaders and New Jersey-based consultancy firm Louis Berger to secure a contract for a water developmental scheme.
The opposition parties also appear to be in no mood to compromise vis-a-vis the controversial Land Bill, on which Modi on Monday called for national consensus.
Lok Sabha Speaker Sumitra Mahajan, however, said leaders of various political parties assured her of cooperation in the House's smooth functioning.