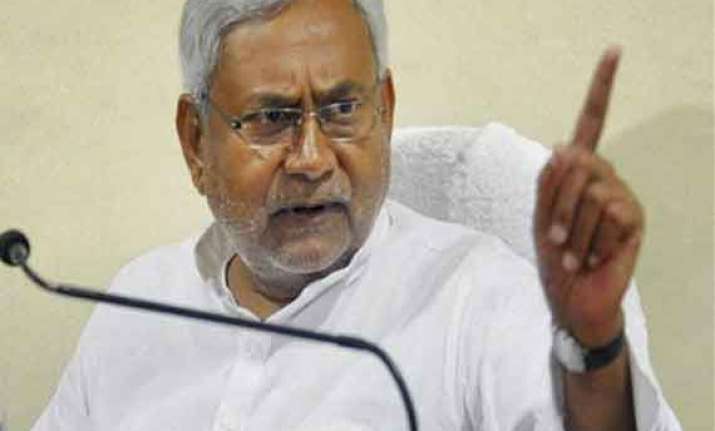 Patna: Rattled by persistent criticism of his government by opposition parties, Bihar Chief Minister Nitish Kumar today dared the opposition to bring in a no-confidence motion and defeat his government on the floor of the House if they have the numbers to do so.  
"If my government is weak and has failed on all fronts, then why don't they (opposition) bring in a no-confidence motion and defeat us on the floor of the House," he said, in reply to a special debate on the issues of terrorism, communalism and naxalism in the Assembly.  
"I am here to run the government following the mandate of the common people and not due to the mercy of these people (opposition)," the Chief Minister said.  Slamming the opposition, mainly the BJP, for running a "propaganda to malign him and his government" ever since he dumped the erstwhile ally six months ago, Kumar said the new opposition has mastered the craft of converting non-issues into major issues to denounce his government.  
He further charged the BJP with fomenting communal frenzy in Bihar after it was thrown out of power by him saying that communalism and terrorism were equally dangerous and both posed serious challenge to peace, communal amity and law and order and must be dealt with equal force.  
Kumar vowed to crush communal forces even at the cost of his life and said such elements would not be allowed to vitiate peace and communal harmony in Bihar as the state and its people have been secular to the core.  "I will put even my own life at stake to crush communal forces in Bihar," he said amid applause from the treasury bench.
Kumar lambasted the BJP for bombarding him with questions related to 18 departments being held by him in the two houses of the state legislature, saying the main opposition should have patience to hear the government's replies instead of staging walkouts on flimsy grounds.  
On the BJP's demand for cabinet expansion, he said it was his prerogative to do so and when to do so. On BJP's criticism of "security lapses" at its October 27 rally in Patna which was marred by serial blasts claiming eight lives, Kumar maintained his oft-stated position that there was no specific intelligence in-put about terror threat to the rally attended by Narendra Modi.  
The Chief Minister said he was deeply concerned about the blasts and had cancelled two scheduled public engagements in Munger and Rajgir to remain in Patna.  Kumar said his government was committed to tackle the menace of terrorism for which intelligence and police set up were being strengthened and an Anti-Terror Squad was being established in the state.
On the spurt in naxal violence in Bihar in recent months, he said it was a national phenomenon and the state government has carried out development works in backward and inaccessible regions.
Earlier, initiating the debate, Leader of Opposition Nandkishore Yadav charged the ruling JD(U) with patronising terrorists making Bihar a soft ground for terror attacks, citing "inadequate security" at the October 27 rally.  
Yadav demanded a CBI probe into the serial blasts as well as government jobs to the kin of the victims.  Water Resources Department Minister Vijay Kumar Chaudhary, in his capacity as the in-charge of home department, earlier said communalism has been known to stoke terrorism as has been buttressed by confessional statements by some terrorists during interrogation.