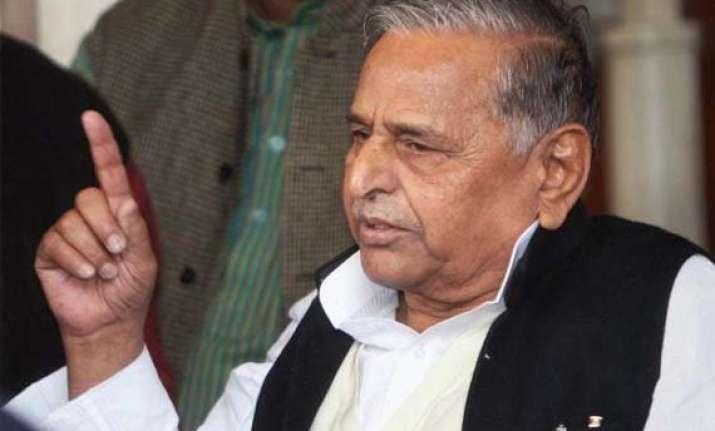 Lucknow: Samajwadi Party supremo Mulayam Singh Yadav today warned that some "forces" might take advantage of the border crisis between India and Pakistan and said it must not affect communal harmony and brotherhood in the country.
Addressing the open session on the last day of the three-day SP's national convention, Mulayam appealed workers, especially youths, to continue to struggle against injustice and atrocities which he said was the real identity of the party.
"A big conspiracy is being hatched to damage communal harmony in the country. We have information that some forces will try to take political advantage of shelling on the border and create a view about minorities, but you should remain alert. Don't allow them to damage this harmony and brotherhood in any manner," he said.
"...There should be no reaction in the country or between yourselves due to this. This you must keep in mind," he added.
"How much shelling Pakistan does, but it can never match our force, which is grand and has got a fighting instinct," he added.
Mulayam appealed the workers that even though in power they must continue to struggle against injustice and atrocities.
"The party has reached this position after fighting for the farmers, poor and against inequality. Fight against injustice as it will create a faith among people that SP won't tolerate it. You have to go with this message," he said.
He said that the youths have big responsibility of taking the party forward and to strengthen it.
"You should take the SP movement forward on the basis of its ideology and policies. We have done a lot of struggle and will continue to do so, but you have to support the party," he said.
Pointing towards an "uneasiness" among youths, he said the Chief Minister should look into it.
Talking about the Mandal Commission report on backward community, the SP supremo said, "It was true that backwards were not getting full benefit of the recommendation of Mandal commission report. We have to go between them and make them understand that they should not get disappointed. We have to talk to the Centre and the state government has to take an initiative."
Maintaining the the state government provided jobs, Mulayam said, now it has to ensure that the farmers get adequate benefit for their produce.
"Our principle is that a farmer should get one-and-a-half times higher than the cost of his produce. But we were unable to do so as it is not possible without support of the Centre," he added.
Attacking the NDA government Mulayam said that it made no provision for the unemployed.