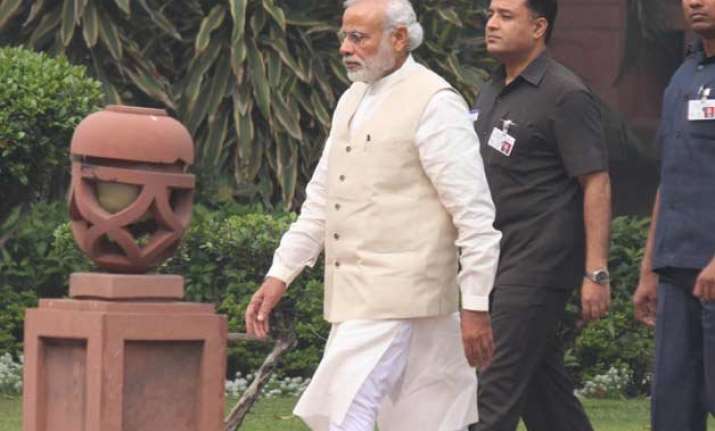 New Delhi: The BJP-led NDA government continued with its efforts to convince its allies like Shiv Sena, LJP and SAD including Opposition parties for the passage of contentious Land Acquisition Bill.
Sources said government is working on getting regional parties like Samajwadi Party, BSP, AIADMK, BJD and others onboard to pass the legislation in the Rajya Sabha, where NDA is in minority.
ALSO READ: Modi govt may opt for Article 108 to Land Bill
A Union Minister yesterday said that government is ready to discuss parties concerns on the bill.
The government remained adamant on the proposed legislation saying it is not anti-farmer and hinted that it may address some of the concerns of other parties during the discussions on the floor of the House.
"We do not see Congress and the Left parties agreeing to the new Land Bill. They will have to be defeated in the Rajya Sabha," a Union Minister said.
ALSO READ: BJP highlights good elements of Land Bill
The Right to Fair Compensation and Transparency in Land Acquisition , Rehabilitation and Resettlement (Amendment) Bill, 2015, was introduced in the Lok Sabha on Tuesday.
NDA's key ally Shiv Sena, SAD and LJP had voiced reservations on the bill. The Sena said that it will meet Prime Minister Narendra Modi in a couple of days to submit a memorandum expressing their concerns.
Sources, however, said that SAD MPs met Finance Minister Arun Jaitley in Parliament to discuss their concerns and are reportedly satisfied about its merits.
BJP is also confident that LJP chief and Union Minister Ram Vilas Paswan will support the bill.
Yesterday, Union Transport and Highways Minister Nitin Gadkari accused the Congress of maintaining double-standards on the issue. He referred to several of its CMs letter in the past asking that the present Act, passed during UPA rule in 2013, be amended.
He said that the 'acquired' land will be used for rural infrastructure projects like irrigation and roads which will ultimately benefit the rural population.