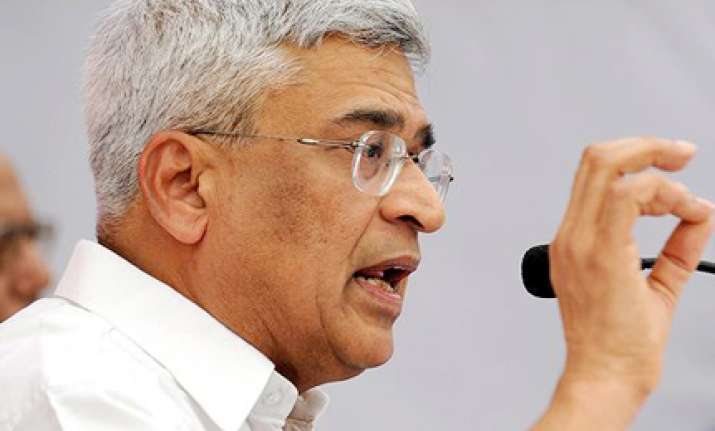 The Communist Party of India-Marxist on Wednesday hit out at the Trinamool Congress blaming it for seeking the stoppage of anti-Maoist operations in West Bengal and providing 'political patronage' to the extremists. 
Demanding that the Prime Minister should explain how Union ministers of Trinamool Congress were opposing the decision of the Centre on sending forces to fight Maoists, the party also alleged that attacks on railway property had risen since Mamata Banerjee took over the railway ministry. 
Reacting to the Rajdhani Express episode in West Bengal on Tuesday, CPI-M General Secretary Prakash Karat said it was well known that Trinamool Congress and its leadership had 'opposed police operations in Lalgarh. In fact they asked for the recall of Central paramilitary forces.'
Asked about Banerjee's comment that the incident was aimed at maligning the railways, he said the Trinamool was 'in collusion with these disruptive forces, and therefore their accusations will carry no credibility.'
Karat told mediapersons that since March, 65 CPI-M cadres and supporters 'have been killed for opposing Maoists politically. Otherwise why should they kill us? They are not killing other party people.'
He said, "The front (People's Committee against Police Atrocities), which the Maoists are utilising, and who are active in the Lalgarh area, are the same forces which have stopped this train." 
Urging the Prime Minister to explain how Central ministers were demanding ending anti-Maoist operations in West Bengal, CPI-M senior leader Sitaram Yechury said Trinamool Congress was focussing on the 2011 West Bengal assembly polls.
"Clearly, they are taking Maoist help. That is the politics amidst which all this is being allowed to be done," he said, adding that the railway minister has herself indicated that she is prepared to negotiate.
"Negotiate what? Negotiate the release of a person who was earlier a Trinamool leader and has now joined Maoists," Yechury asked, alleging that since Banerjee took over as the Railway Minister, 'attacks on railway property by Maoists have grown very sharply.'
Indicating a plan, he said the Rajdhani being a fast-moving train cannot be stopped the way it was done on Tuesday. "Here you have it stopping very peacefully, then you have this attack which is conducted with all the graffiti asking for the release of Chhatradhar Mahato (PCPA chief) who everybody knows was a Trinamool leader earlier." 
It was known that Trinamool and Maoists were working 'in collaboration' in Bengal. "It is also known that Central ministers have been arguing for the withdrawal of Central forces from Bengal in the anti-Maoist operation," he pointed.
"All this clearly points out that there is political patronage, otherwise these things cannot possibly happen. You are in political collaboration with a certain force whom you are protecting, that is the political patronage being given to Maoists," Yechury said. PTI