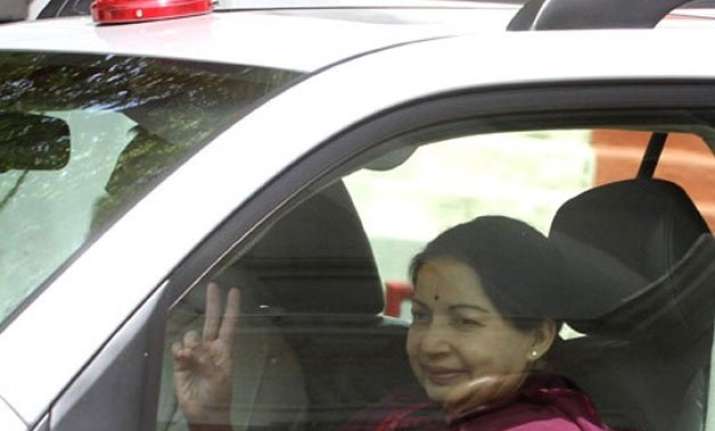 Bengaluru: The Karnataka High Court verdict acquitting former Tamil Nadu Chief Minister Jayalalithaa had "glaring arithmetical error" relating to her disproportionate assets, Special Public Prosecutor in the case B V Acharya said yesterday, maintaining this could be an "excellent point" to challenge it in the Supreme Court.
Acharya said he was considering "all the options" that are available "because in law, we are not sure what will be the options but one definite thing is, if it (Karnataka government) decides to file an appeal in the Supreme Court, this will be an excellent point on which the court is bound to grant relief."
"In terms of per cent as also in terms of total income there is a glaring arithmetical error. This glaring mistake has come to our notice just now," Acharya told reporters here.
The SPP said Jayalalithaa's total disproportionate assets is Rs 16.34 crore instead of Rs 2.82 crore as the High Court Judge C R Kumaraswamy has concluded. The total DA should have been Rs 16.34 crore instead of Rs 2.82 crore, he said.
Acharya said Rs 16.34 crore DA amounts to around 76 per cent and not merely 8.12 per cent as concluded by the judge.
In his judgement in the 19-year old case that set the stage for Jayalalithaa's return as Chief Minister, the judge said it is a well-settled law that according to the Krishnanand Agnihotri case, when there is disproportionate asset to the extent of 10 per cent, the accused are entitled to acquittal.
The total income of the accused, firms and companies is Rs.34,76,65,654. Lack of proportion amount is Rs.2,82,36,812. The percentage of disproportionate assets is 8.12 per cent, the judge had held while setting aside the trial court's order.
In his judgement on September 27 last year, Special Judge Michael D'Cunha had held Jayalalithaa and three others guilty of corruption and sentenced them to four years in jail. He had also slapped a fine of Rs 100 crore on her and Rs 10 crore each on three others.
Acharya said the judge had said that Jayalalithaa had received loans worth Rs 24 crore but the actual figures come up to only Rs 10 crore. "...So there is a mistake of about Rs 14 crore.
If Karnataka Government decided to file an appeal in the Supreme Court, it would be a good case for it to get relief, said Acharya, who was made SPP at the eleventh hour after the Supreme Court struck down the appointment of Bhawani Singh as "bad in law".
He said he would submit a report to the Karnataka government on the issue.
Reacting to the verdict, Acharya had said yesterday that the prosecution case had been "seriously prejudiced" as the state of Karnataka and SPP appointed by it was denied an opportunity to convince High Court through oral arguments.
A former Advocate General who had earlier resigned as SPP, Acharya had filed a written submission before the High Court, seeking dismissal of appeals filed by Jayalalithaa and three others.
Justice Kumaraswamy had however in his judgement rapped the Karnataka government, saying it had not taken steps to appoint the SPP even during hearing of appeal for four months.
"Though this appeal was heard for nearly more than four months, inspite of it, the government of Karnataka has not taken steps either to appoint the Special Public Prosecutor even though the state of Karnataka was a transferee court," he observed in his 919 page verdict.
Asked whether the government can seek review of a High Court judgement pertaining to a criminal case, Acharya said today he needs to examine the possibility.
"Normally, a verdict given by the High Court with regard to a civil case can be reviewed in the Supreme Court. I need to examine whether a verdict in a criminal case could be reviewed in the Supreme Court," he said.
He, however, said there are some legal provisions to review arithmetical errors but he would have to check with the state law department.