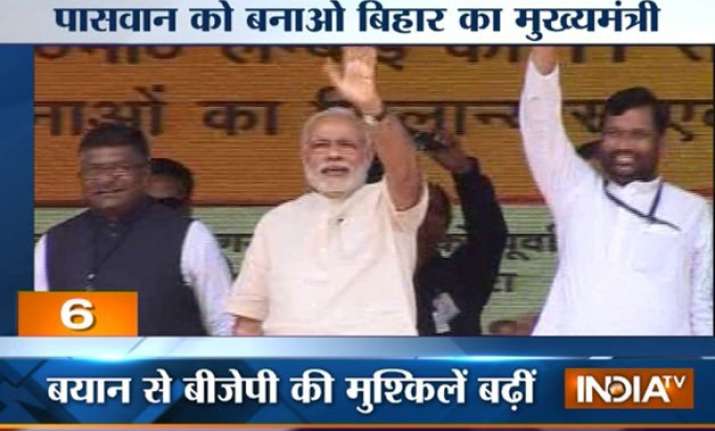 New Delhi: Union Minister and Lok Janshakti Party ( LJP) chief Ram Vilas Paswan on Sunday said that former prime minister Atal Bihari Vajpayee wanted him to become the Chief Minister of Bihar.
"There was meeting at Atalji's place. Advaniji, Yashwant Sinhaji, George Fernandes, Sharad Yadav and Nitish Kumar were also present at the meeting. Everyone voiced their opinion. Then Atalji said that make Ram Vilasji the Chief Minister, the government will run smoothly as he has a nature of taking everyone along. Then I went to him and said don't push me into this," Paswan said.
 
"Then we had a separate discussion and I said that I don't want to. He was upset with this and said that make whoever you wish to but the government will not last long. So, I refused on my own. I have been in national politics for a long time and when one has a national image then there is a hesitation to get into state politics," he added.
Meanwhile, his remark has created a furore among the NDA partners of which Paswan's LJP is also a part.
Senior BJP leader and actor-politician Shatrughan Sinha came out openly to support Paswan's candidature for the top post in the state saying 'matured' Paswan should be CM face for Bihar.
He said, "I think that Ram Vilas Paswan is a very capable and a very qualified person that's why I have spoken about him."
When former CM Jitan Ram Manjhi was asked whether he will support Paswan or not, he said, "The alliance will take a call on this. I am no one to decide on this. Vajpayeeji wanted or not wanted... what does this mean?"
The NDA in Bihar comprises BJP, LJP, Upendra Kushwaha's RLSP and Jitan Ram Manjhi's Hindustani Awam Morchaand (Secular).
The alliance had in past made it clear that it would not declare its chief ministerial candidate for the upcoming polls.
Meanwhile, Bihar Chief Minister and chief ministerial candidate of 'grand alliance' comprising JD(U), RJD and Congress has dared the NDA to declare its chief ministerial candidate for the polls.
"People of Bihar will decide that who will become the Chief Minister. NDA should declare its candidate," he said.
Assembly election in Bihar will take place in October-November this year.