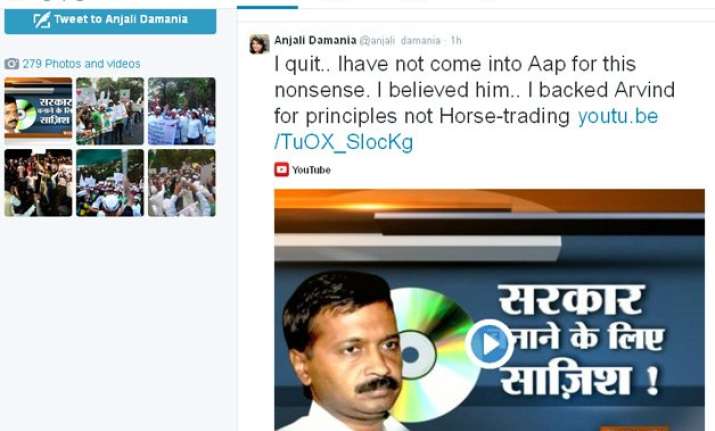 New Delhi: Aam Aadmi Party (AAP) leader from Maharashtra Anjali Damania has resigned from the party.
"I quit.. I have not come into AAP for this nonsense. I believed him.. I backed Arvind for principles not horse-trading," she tweeted.
In her tweet the AAP leader referred to the India TV's story.  
ALSO READ: Exclusive: Kejriwal encouraged horse-trading to form govt, claims Rajesh Garg
 
Damania's resignation came after former AAP MLA Rajesh Garg released an audiotape of conversation between him and Delhi Chief Minister Arvind Kejriwal claiming that the latter, before the dissolution of Delhi Assembly in 2014, had indulged in horse-trading of six Congress MLAs to form government in the national capital. India TV was the first news channel to break the story.
Garg claimed that Kejriwal wanted to form government in Delhi by breaking MLAs from Congress so that he can enjoy full majority on the floor of the House.
At the same time, Damania has given the party a period of 48 hours to clear its stand on the issue of horsetrading. She said the party should come out clear on what is the reality of the sting.
Last year, Damania, just ahead of the Maharashtra Assembly polls, had resigned from party's state unit convener post.
Damania came into the limelight in 2012, after she accused the then BJP chief Nitin Gadkari of having a business partnership with NCP chief Sharad Pawar.
She had unsuccessfully contested 2014 Lok Sabha elections from Nagpur, as an AAP candidate against Gadkari.