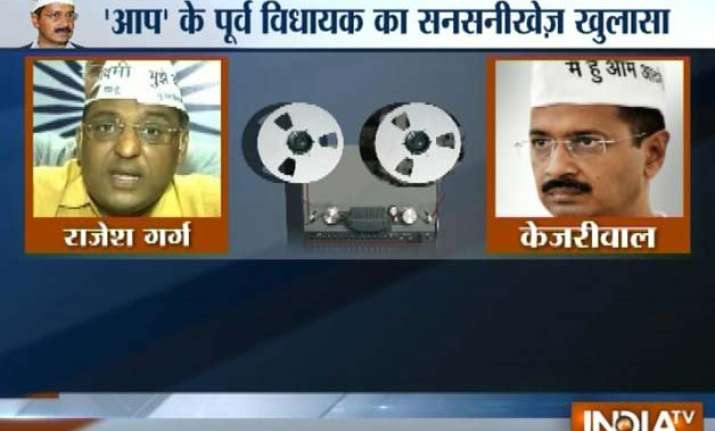 New Delhi: Former Aam Aadmi Party (AAP) MLA Rajesh Garg has released an audiotape of conversation between him and Delhi Chief Minister Arvind Kejriwal claiming that the latter, before the dissolution of Delhi Assembly in 2014, had indulged in horse-trading of six Congress MLAs to form government.
Garg claimed that Kejriwal wanted to form government in Delhi by breaking MLAs from Congress so that he can enjoy full majority on the floor of the House.
ALSO READ: AAP MLA starts 'Signature Campaign' for removing Bhushans, Yadav
He also said that top party leaders including Manish Sisodia were in regular touch with Congress MLAs.
Meanwhile, the party retorted to Garg's claim that the audiotape is doctored and it is ready for any investigation.
Given below is the transcript of their conversation provided by Garg (scroll down for video):
Rajesh Garg: Namaskar Bhai Saheb (Hello my dear friend)
Arvind Kejriwal: Namaskar, how are you?
Garg: I am absolutely fine sir.
Kejriwal: We are ready but they are not agreeing... I mean people who are in touch with Manish and others...  
ALSO READ: AAP rift widens; Kejriwal loyalists attack Yadav, Bhushan
Garg: It's not like that... all 8 MLAs are ready... Ajay Maken, Surjewala and few more from AICC are creating hindrances... saying we will be decimated completely.
Kejriwal: Then what should we do in such circumstances... there inference is delaying final decision on their part... what can we do now. I have tried to reach them several times.
Garg: In that situation, we can make an appeal that we are organising Mohalla level meeting and such opinions are coming out... If someone is ready to support us, we will stake claim to form government.
Kejriwal: No, don't do this... speak vice-versa.
Garg: I am just discussing with you.
Kejriwal: No, no... What I am saying is that we shouldn't speak now.
Garg: Okay.
Kejriwal: If they are ready, we are also well prepared.
Garg: Oaky.
Kejriwal: Speaking at this juncture will deliver a wrong message to them... They will think that we are desperate for their support.
Garg: And what if it will too late... The reason is- they have recommended for dissolution on Tuesday and Wednesday, after this nothing will be in our hand.
Kejriwal: Yes... I agree you but what else can we do... Meaning if you make an announcement and they don't extend support, we will stand nowhere.
Gard: Image will be spoiled.
Kejriwal: It will be tarnished... It means that announcing anything before their final decision will put us in danger.
Garg: Yes, I agree with you on this. Today I will try.
Kejriwal: You please talk to them.
Garg: We will have to play safely.
Kejriwal: Yes... sure, sure.
Garg: This is the matter... today I will try.
Kejriwal: Okay... It is like that these six MLAs will part their ways and support BJP.
Garg: Yesterday night Hari Shankar Gupta, who is an ex-MLA.... he is friend of Ajay Maken, he is very close to Maken. Yesterday night gave me a call... He initiated and later I spoke to Manish bhai. Gupta informed that all eight MLAs are ready and he held meeting with them including Lovely, Haroon Yusuf... The matter is now pending before the AICC.
Kejriwal: Yes
Garg: If they give support to BJP, they will emerge very powerfully and deliver the work and that we won't be in situation to do anything.
Kejriwal: Yes
Garg: That MLA, Mateen Ahmed, is adamant that he will quit if this move is implemented. Pratap Singh Sahni and Devendra Yadav called me...
Kejriwal: I will tell you one thing... You try to break these six MLAs. Lat them form a party ans support us from outside.
Garg: Okay. I will try. I am planning.
Kejriwal: These six MLAs were parting their ways to join the BJP but they couldn't because there are three Muslims.
Gard: These three Muslims will never go with the BJP.
Kejriwal: If they can't go with BJP, why don't they support us.
Garg: Yes I will today look into the matter.
Kejriwal: Okay.
Garg: Okay bhai sahib. Namaskar
Kejriwal: Okay
The video was released by Garg at a time when the party is facing internal crisis after the nation executive axed two senior leaders, Prashant Bhushan and Yogendra Ydav.
The party accused the duo of indulging into anti-party activities with sole motive of removing Kejriwal from the top post within the party line and AAP's defeat in the Delhi polls.
Disclaimer: India TV has not confirmed the authenticity of the audiotape provided by Garg.