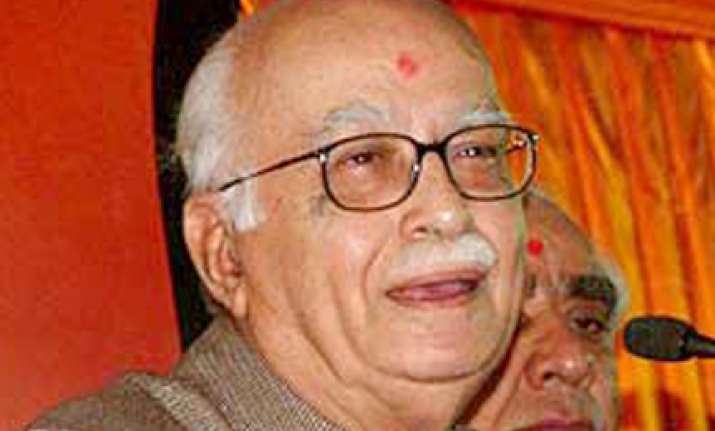 BJP's Leader of Opposition Lal Krishna Advani on Monday expressed his desire to retire from active politics, when he called on Swami Vishveshwar Teerth, the head of Pejavar Mutt, who had been camping in Delhi. 
This was revealed by the swami himself who told the media that Advani told him he wanted to leave the political arena. The Swami persuaded the senior BJP leader to stay on course and not retire from active politics because of the prevailing political scenario. 
As news spread about Advani expressing desire to retire, the BJP spin doctors went into action mode.
 BJP spokesperson Rajiv Pratap Rudy said it was a routine meeting as politicians usually meet saints to get their blessings. 'It would be better if discussions between politicians and saints are not given a political tinge", he added.
On his part, Advani merely said that he had gone to meet Swami Vishweshwar Teerth to get his blessings.   
Advani has been at the receiving end within the Sangh parivar  for the last two months. The RSS had given indications to Advani that a young generation leadership should emerge within the party to take it forward.
RSS chief Mohan Bhagwat had met Advani and party chief Rajnath Singh during his stay in Delhi last month to impress upon this point.
Coincidentally, Swami Vishweshwar Teerth happens to be the spiritual guru of former BJP leader Uma Bharati.
Advani, party sources said, expressed his inclination to "distance himself" from politics.  "He (Advani) expressed a view  to distance himself from politics but was not not clear when and at what time," Swami Vishveshwara Teerth of Pejawar Mutt told reporters  after Advani called on him.
The swami, who is on a visit to Delhi, however told PTI that Advani did not say he wanted to retire.  The swami told him that the guidance of a senior leader like him is needed in BJP and politics. "So, for this reason he should not move away from it (politics)," he said. 
Calling on him on the occasion of Vijaydasami to seek his blessings, Advani told Swami Vishweswara, "I don't like to continue in politics.
I desire to stay far away from politics".  The swami quoted Advani as saying, "....since there are differences of opinion...I have served for so many years. I want to be far away from politics. He (Advani) expressed the opinion to remain far away from politics."  He said Advani has not said he will retire from politics.
The BJP, however, sought to downplay his statement. Party spokesperson Rajiv Pratap Rudy told reporters "We keep meeting sadhus and sants to consult them and seek their blessings and guidance.
The views of Swamiji should not be seen in political light."  A week ago, BJP leader and former Goa Chief Minister Manohar Parikkar had compared Advani to a rancid pickle and said had said his political career was more or less over.