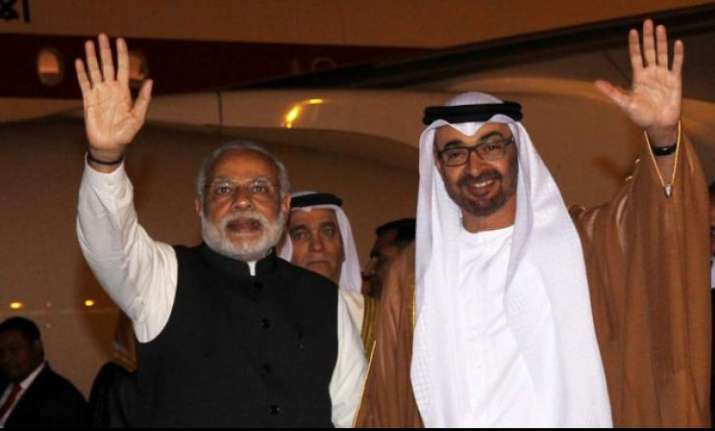 Stage is set for a royal welcome for UAE's Crown Prince Sheikh Mohammed bin Zayed Al Nahyan who arrives here on January 20 as Chief Guest for the Republic Day celebrations later this month.
According to a Times of India report, the visiting dignitary, who is also the deputy supreme commander of the UAE's Armed Forces, will bring a contingent to match the music and rhythm of India's numerous military bands who put a spectacular show on the day. 
It is believed that Sheikh Mohammed's visit will be an opportunity for India and UAE, who have grown closer in the past few years, to upgrade their bilateral relationship to a "strategic partnership". 
Officials, including Minister of State MJ Akbar and his UAE counterpart Anwar Mohammed Gargash, will meet for the first India-UAE Strategic Dialogue on January 20 for preliminary talks on defence, security, counter-terrorism and investment.
The talks come 18 months after the two nations announced a strategic partnership during Prime Minister Narendra Modi's visit to Abu Dhabi. 
UAE wants to invest in India's infrastructure and the visit will see the Indian government rolling out measures to facilitate these investments, particularly in the roads and highways sector. 
Another major aspect of the meeting will be energy, including populating the Indian strategic reserve and investing in downstream projects. 
According to a report in The Hindu, the talks will be led by MJ Akbar and will include National Security Adviser Ajit Doval and Foreign Secretary S Jaishankar, if they are needed.
In particular, a $75-billion infrastructure fund set up by the UAE for India and India's hopes for closer counter-terror cooperation will be discussed.   
The meeting also comes in the backdrop of media reports suggesting that UAE government had already moved to seize property and assets of Mumbai blasts accused Dawood Ibrahim. Officials, however, have refused to confirm reports.
Navdeep Suri, Indian Ambassador to the UAE said that 'there is a lot we have on the table'. 
Describing the upcoming visit 'important', Suri said that defence, security, space and nuclear power have been identified as technical fields where both the sides can forge new partnerships.
"In that region, India and the UAE are islands of stability and there is a recognition that by working together, we can contribute a lot more to regional stability," the Ambassador said.
Another significance of the visit is about 'ending Pakistan's primacy' in the UAE. UAE is considered to be one of the closest allies of Pakistan, but there has been increased engagement between India and UAE over the last two years. 
The Crown Prince had earlier visited India in February last year.