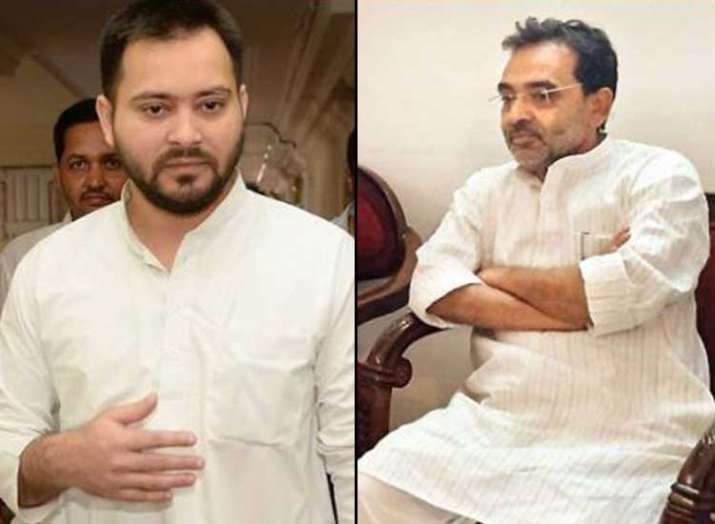 RJD leader and former Bihar deputy chief minister Tejashwi yadav on Friday invited Union minister Upendra Kushwaha to join the grand-alliance in Bihar, saying the  Rashtriya Lok Samata Party (RLSP) chief had no place in the National Democratic Alliance (NDA).
"Upendra Kushwaha has no place in NDA. If he wants to talk to us then we have no problem," Tejashwi Yadav said.
Upendra Kushwaha is reportedly unhappy with the BJP-led NDA and Tejashwi's statement came a day after the RLSP chief skipped the NDA get-together in New Delhi.
Even on Friday, Kushwaha did not attend the Iftar party hosted by Bihar deputy chief minister Sushil Kumar Modi in Patna even though he was present in Bihar.
Kushwaha, however, downplayed his absence at a get-together of senior NDA leaders in New Delhi Thursday night which he said was due to "personal reasons" and asserted that the coalition was "intact." 
"I could not attend the function because of personal reasons. But, other leaders of my party did. Please do not try to read anything between the lines. The NDA in Bihar is intact," Kushwaha told media persons at the Patna airport on his arrival from New Delhi. 
Asked whether his unexpected absence at the feast did not indicate that he had some differences with his colleagues in the NDA, Kushwaha shot back "Amit Shah too did not attend the dinner. Would you pose such a question to him?" 
Watch: Tejashwi invites Upendra Kushwaha to join grand-alliance